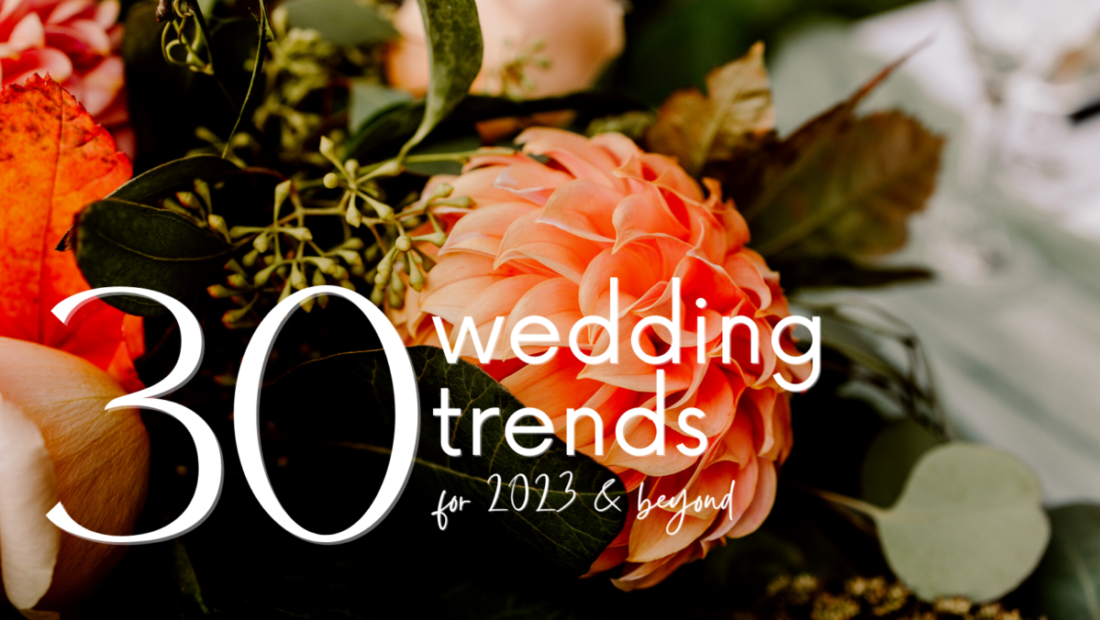 blog
,
elopement
,
inspiration
,
king county
,
seattle
,
skagit county
,
Snohomish County
,
vendor
,
venue
,
washington state
,
wedding planning
,
wedding tips
,
weducation
30 Wedding Trends 2023
We aren't usually one for wedding trends, but as we push towards 2023 weddings and beyond, we're watching things go farther and farther away from tradition and We are SO HERE FOR IT.
Scoping out wedding shows, bridal runways, and the wedding feeds from around the world (and in chatting with vendor friends), we've put together a list of things that the industry is likely going to be seeing in more and more weddings going forward.
If there is one word we could use to encompass these 2023 Wedding Trends, it would be "STATEMENT" (sorry for using it so much below!).
If we missed any, make sure to let us know in the comments.
---
30 Wedding Trends for 2023 and Beyond
PETITE BOUQUETS
Petite doesn't have to necessarily mean minimalistic, however. These scaled back bouquets are still all about the statement.
FLOWER GUYS (& GRANDPARENTS)
Probably one of our favorite trends of the 20s, flower-guys (and grandparents) are a unique twist to your wedding and the perfect role for that extroverted friend. Especially when paired with the statement jackets mentioned below. Pick an amazing song, load them up with a fanny pack filled with floral, and let them rock their way down the aisle and create the grandest entrance ever for the party getting married.
↓ MORE WEDDING TRENDS ↓
CAKE GARDENS
If you spend any time on Wedding Instagram, you've seen these beautiful creations. The cake has always been a statement piece, in our opinion, but this takes it to a whole new level. The cake becomes a true centerpiece surrounded by an incredible garden-esque display of floral and décor.
BLACK & GRAY ACCENTS
Matte Black and charcoal gray have often been deemed as accents that elevate when it comes to business, and now that trend is following into weddings – but with a lot more room for interpretation. From the full palette of gray hues to a mix of matte and gloss blacks, we're going to be seeing this pop up in weddings of every season.
CHAMPAGNE TOWERS
This fun option is replacing unity ceremonies and cake cuttings and sometimes even being used as an interactive start to the wedding toasts/celebration part of the reception.

FEATHERS, STREAMERS, DRAPES & BALLOONS
2023 couples are here to PARTY. The party and wedding trends of the 80s and 90s are finding their way back into weddings with disco balls, streamers, feather accents, drapery and balloon displays.

SUSTAINABILITY & UPCYCLING
We've mentioned one of our favorite Hidden Gems of Wedding Planning before, but now it's even more on trend. While some people are crowd-sourcing or second-handing their wedding decor, we actually encourage you to rent your decor and serveware, etc, as it's much more sustainable (not to mention cost effective, and storage and re-sale friendly).
MODERN ARCH-STYLE WALLS/SIGNS/DECOR
The modern style arches and walls are all the rage right now. They're serving as welcome and way-finding signage, menu boards, champagne service, appetizer service, cake backdrops, ceremony backdrops, cake toppers, table numbering, and even setting the stage behind the sweetheart and king head tables.
↓ MORE WEDDING TRENDS ↓
FLORAL & COLORFUL WEDDING GOWNS
We are LOVING the gowns we're seeing on the runways and in the bridal salon social feeds. From colored dresses to beautifully floral embroidered gowns, to sequin wedding dresses, bridal fashion is trending towards anything but white/ivory alone.
PARTY WEDDINGS (OR, WEDDING TAKE 2)
This was never a wedding trend we could have anticipated: A large number of wedding-planning couples are actually already married. They've often chosen to make things legal in a quiet way (courthouse, home, or elopement) and are now ready to party with the ones they love most. A lot of the other wedding trends we're seeing for 2023 make even more sense with this in mind – it's truly a celebration focused around those they love most and less around traditions.
MULTIPLE WEDDING DAY OUTFITS
2021 & 2022 ushered in the years of "costume changes" and 2023 will be no different. Over half of our couples switched outfits during reception. Some chose to honor cultural traditions with these party outfits, and some just chose to change into something a lot easier to party in.
TABLE CHARCUTERIE (& DESSERT CHARCUTERIE)
Charcuterie has been on trend for a couple of years as well, but we're now seeing plans for individualized/at the seats charcuterie snack boards and dessert boards, plus a more immersive dessert charcuterie style hitting the scene. We don't expect this trend to end anytime soon.
CEILING FLORAL
Floral is taking center stage again (FINALLY!!) and on more than just the tables. Ceiling installations are everywhere this year – and mixing mediums with floral, streamers, drapery and lights. Ceiling floral is a great way to make a space feel more intimate and brings a lot of that outdoors to the indoors (or tents).
STATEMENT FLORAL
Again, YAY MORE FLORAL. We are excited to be entering the timeframe past the "my venue is so beautiful it doesn't need much" mindset…. because, yes, it still does. Statement floral is IN in a big way for 2023. Tree wraps, intricate aisle pieces, the cake garden mentioned above, floral staircases, eye-catching pieces on signage and on doorways, it's the year for floral.
FULL WEDDING WEEKENDS
Weddings are also becoming more of an experience for guests. Staying in line with that "party" wedding trend, we're finding that couples are planning Welcome Parties, the full wedding experience and then a morning-after brunch (and sometimes epic photo adventure just the two of them) with their nearest and dearest to keep that party vibe going all weekend long.
MOBILE BARS & BEVERAGES
This is one of our favorite new wedding trends to come out of post-2020. Mobile bars & beverages. Some of our local favorites range from a converted VW bus to a restored traditional Italian piaggio ape' to remodeled horse trailers – and they're popping up all over the PNW. Some of our local favorites are Kitsap Bartending Bustender, Bubbly & Stout & Tipsy Trailer.
RETRO & UNIQUE WEDDING EXPERIENCES
Coffee bars, 360 photo booths, photo booth trailers, ice cream carts, audio guest books, late night snack food trucks, caricature artists, cosplay performances, tattoo artists, wedding painters, cigar bars, and ramen or other speciality food bars.
↓ MORE WEDDING TRENDS ↓
MORE COLOR
It's the year of MORE COLOR. This wedding trend is spreading the love – whether you prefer the bright, vibrant tones of pinks and greens that are nearly neon, or the deep rich tones of earthy vibes you can't go wrong as long as you've got colors galore in there (not just one or two wedding colors – think, wedding palette!).
MONOCHROME & FORMAL DRESS CODES FOR GUESTS
This wedding trend started with a few viral posts about an all-black dress code for guests, and now we're seeing it in other forms as well. Not only requesting guests wear one specific color, but the request for semi-formal and formal attire is becoming more commonplace on wedding invitations.
PRIVATE LAST DANCE
This is another carryover from 2022 weddings, and we just love it. At the end of the night, couples are opting to clear out their reception space and spend a few minutes semi-alone for a private "last dance" on their wedding day.
EARTHTONES (ESP TERRACOTA, SAGE, EMERALD AND SLATE BLUE)
Another favorite wedding trend for us, is the resurgence of the earth-tone weddings. Deep rich colors of sage, emerald and slate blues are finding their way into more wedding color palettes, but it's the terracotta and oranges we're most excited about. Previously reserved for mostly fall weddings, we are anticipating seeing this beautiful warm color throughout the seasons this year and beyond.
RETRO, VINTAGE & BOHEMIAN STYLE
Pampas grass and other dried elements hit the scene in the last few years, and it's still here to stay for a bit. We'll be seeing some additional retro and vintage spins on this fan favorite for 2023, as clients reminisce with whimsical 50-00s inspired touches.
CAPES
With more and more people getting married loving the non-traditional, we're finding that they're seeking out alternative options to the veil, and the top-contender this year is the cape. Attached to the gown, suit jacket, or even suspenders, this is an elegant touch with a lot less fuss (and no destroyed hair!)
EMBROIDERED VEILS
But if you're still a veil person who wants to stay on trend, don't worry – embroidered veils are the way to go. Floral embroidery tops the list, but there are a ton of ways to personalize your veil to match your vibe and style.
COMFORT FOOD APPS & LATE NIGHT SNACKS
With partying being the focus, we're seeing more couples bringing in things like pizza, sliders, hotdog trucks, tomato soup & grilled cheese, chicken nuggets, mashed potato bars, and other comfort foods for the late-night wedding snack (gotta keep that energy up for the dance floor & party vibes!)
↓ MORE WEDDING TRENDS ↓
SMALLER, UNISEX WEDDING PARTIES
People are doing away with a lot of the wedding party traditions – not just asking fewer people to stand by their side, but also not confirming to gender lines when choosing their party members.
ALTERNATIVE WAYS TO HONOR PEOPLE IN PLACE OF BOUQUET/GARTER
This is one pair of traditions that we cannot be happier to see going away – the bouquet and garter toss. They're rarely a comfortable experience, and sometimes lead to actual injury. Instead, we're seeing wedding couples use the space for these traditions to honor people important to them (such as presenting a special bouquet to grandmothers or a dance with someone who isn't a parental figure but still influential for them).
LOTS OF LIGHTS & LIGHTING INSTALLATIONS AT NIGHT
Playing in to the party setting of 2023 weddings, couples are hiring incredible lighting partners to really bring up their ambiance. From monograms to marquees, to neon signage and up-lighting, we've seen some amazing installations on the local wedding social media feeds heading into this wedding season.
NEUTRAL COLORS & LUXURY FABRICS FOR WEDDING PARTY
With bridal gowns straying away from white and creams, we're seeing more wedding party wear coming out in those colors – neutral tones of white, tan, cream, soft browns. We're also seeing more luxurious fabrics of velvet, satin, silk and Elizabethan-inspired lace.
STATEMENT JACKETS FOR GROOMS & WEDDING PARTY
Another favorite wedding trend is the statement jacket. These incredible coats elevate any wedding party, person getting married, family member or groom's look. We've seen intricate geometric patterns, gorgeous florals, beautiful textures and colors like never before.
UNIQUE WEARABLE FLORAL
And more wedding couples are moving away from traditional bouquets and boutonnieres – we're heading in the direction of floral necklaces, floral bracelets, floral suspenders, floral tops (yes, with real floral), the return of the floral headbands, and even floral tattoos (made with real flowers that stick to your skin!). So excited for all of these incredible floral wedding trends.

FLORAL CANDLES
More floral! This one is a little more subtle though, we're seeing the traditional tapered candles taken a step above with dried floral covering their surfaces to give that added detail of elegance to your tablescapes and ceremony space.

LIVE MUSIC
DJs are still going strong, but we're seeing the demand for live music return. Whether people are seeking a harpist, winds trio, or full on cover band, there are options out there for everyone. Just make sure your venue allows live music, as some have sound ordinances that would be prohibitive.
↓ MORE WEDDING TRENDS ↓
LESS TRADITIONAL TIMELINES
With wedding trends heading away from tradition, we're seeing this reflected most in wedding timelines. Since people don't need time set aside for things like bouquet and garter toss or cake cuttings, it gives their reception timing the space it never had previously. More couples are choosing first looks so that they can join their cocktail hour and spend as much time with guests as possible, and many are opting to enter the reception into their special dances before dinner so that once the real party gets going, it doesn't have to stop.
WEDDING HATS
With the boho and 80s wedding trends to be considered, another veil alternative that we're seeing this year (though mostly east coast so far), is wedding hats. But not like the 80s wedding hats, these are more towards the bohemian side, and many are customized (you can find what we're talking about on Instagram and TikTok).

MOCKTAILS & COFFEE COCKTAILS
A wedding trend we truly appreciate is the mocktails. More and more couples are recognizing that their guests don't all drink, and are making sure that their bartenders have some amazing non-alcoholic options that are as beautiful as they are delicious. Coffee is also being added to the evening menu in both non-alcoholic espresso martinis and the traditional alcohol-containing versions.

WEDDING GOWNS THAT HAVE BOWS, PEARLS OR ARE OFF-THE-SHOULDER
That 80s and 90s inspiration is very obvious in wedding gown styles especially. Following and wedding gown social media or stopping by any bridal store will bring you back to these retro eras. You'll find off-the-shoulder gowns, bows both big and small, and lots of pearl accents.

MORE INTIMATE WEDDINGS
Many couples are opting for more intimate vow exchanges and weddings, as a bit of a carry-over from 2021 and 2022. We're seeing this wedding trend still alive in well with smaller guest counts than their pre-2020 counterparts.
THAT'S IT! WHAT WEDDING TREND ARE YOU MOST LOOKING FORWARD TO IN 2023?
---
If we missed any, make sure to let us know in the comments.