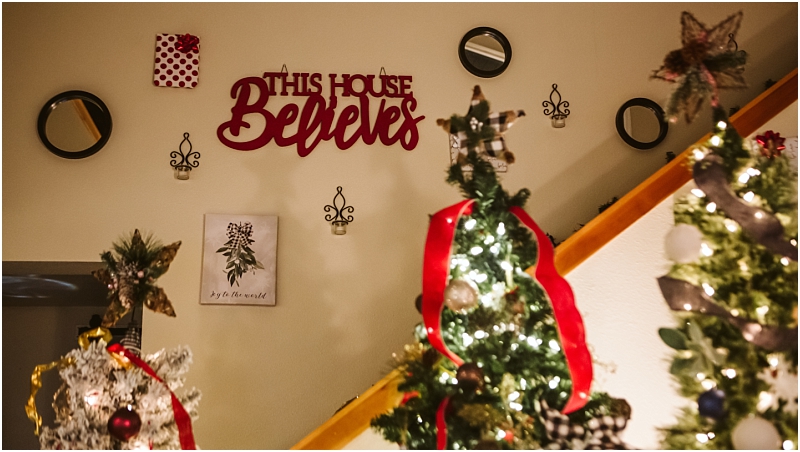 Christmas Crazy
We are a notoriously Christmas Crazy household. So much so that we are often the source of family jokes – but probably with reason.

Please note: This is a personal, real-life post by Kate & Josh – if you strictly want to read client related posts, please click here.
You see, we have a tradition. Every year on November 1 we start putting up our Christmas Trees (yes, plural) and decor. What started as one tree has now grown to 4 trees full size trees inside that I personally decorate, and then the girls have one each in their rooms, and then one for the loft … and I may or may not have added a mini tree to each bathroom this year, too.
We start usually with the indoor decor and then work on the outside. It's been a bit rainier this year, so the outdoor stuff is taking longer than usual. There is also a lot more "outside" to decorate. We are also planning an outdoor tree this year, roughly 15ft tall, directly in front of the Great Room point that is visible from our driveway.
Normally, my main trees have themes. There is a Starbucks tree, a Harry Potter tree and then a PNW tree. This year, I divided that PNW tree into two – both much more simple than years past. I think I prefer it, at least this year. 2020 is complicated enough already.
Growing up, my mom never let us touch her tree – and I have definitely inherited that trait. That's why the girls have their own Christmas trees. It's fun to watch them evolve – and sort of bittersweet, as they're less and less willing to put their handmade ornaments from the past on their own trees.
When do you put up your Christmas decor? Do you have a favorite part? Tell us in the comments!
The sparkly snowman is my new favorite thing this year – when I saw him at Kohls, I couldn't walk away.
Where is your favorite place to buy Christmas decor?