FIRST OF ALL, I'M SO GLAD YOU'RE HERE. WELCOME TO OUR LITTLE HOME ON THE INTERNET.
I've said it at least 5 times here already, but congratulations. I swear I heard that 100 times a day for the first month we were engaged. I'm sure you've poked around a bit, probably read some of our favorite posts, checked out our work – and now you want to know, who in the world is behind these photos?
Josh (he/him) and Kate (she/her) are creatives at heart – geeky, nerdy, adventurous and weird. We both have tattoos, we both love Harry Potter, the MCU and music (especially Tom Petty), and we have a million corny inside jokes.
We spend a lot of time on road trips or creating adventures in our own backyard. We believe that the strongest and best relationships are built through experiences together and approach our relationship, family and business with that in mind. Yes, we're married (although at this point, I feel like that is kind of a duh statement). We could go on and on about all the cheesyness that makes us love weddings, but we won't make you gag. Love rocks, that's all.
We are a house divided – Josh is an avid Seahawks fan and on football days, our house is a shrine to everything 12 … where as Kate bleeds Green and Gold for her beloved Packers. Josh also loves reggae music and rap, where Kate's tastes lean more towards country, pop, and some folksy non-mainstream bands. If you ran into us on a weekend, we'd probably both be in the same room, but Josh immersed in his video games and Kate on the computer or playing that addictive and relaxing game, 2048 (I forewarned you, nerd-status is at an all time high).
Hiking, exploring, and getting as far away from traffic as we can get is the name of our game – which is probably why we live in the woods. Our house literally does not get mail service … or any internet to brag about. That being said, it's a pretty kick-ass place to have fires on summer nights and to sled when it snows.
Fun fact: Kate has been photographing since 1997, and Josh picked up the camera in 2011; we've done well over 400 weddings together.
Learn a Little More About US
Coffee, MCU, Disney, Harry Potter & Coffee
Universal, Disneyland, Lake Havasu, Glacier & Maui
Kate pretty much always wears a cuff bracelet
Traditions are not mandatory. 
Describe Yourself in One Word:
Kate can sing & dance; Josh is an awesome gardener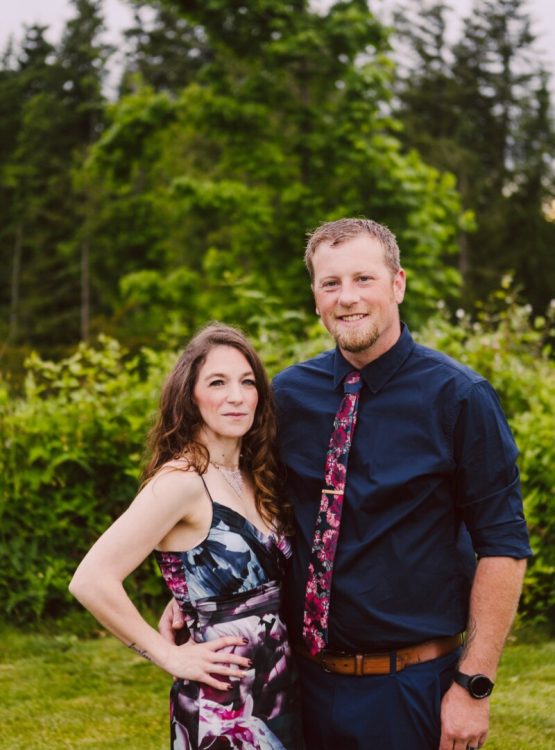 Our work has an artistic, earthy style and fearless approach to weddings and are obsessed with love. We are based in the sweetheart town of Machias, WA but travel far and wide to create visual love stories for the amazing and beautiful characters that hire us as their authors. We specialize in weddings and couples in the Pacific Northwest, Florida and the Big Sky Country.
We would love to create for you, but first let's start with a cup of coffee or a glass of wine, because we'd love to hear all the quirky awesomeness that makes you, you.
***
As we are also fond of laughing at ourselves – we always try to sneak behind-the-scenes photos of each-other at weddings and engagement sessions. Like I said above, we're just a *little* obsessed with weddings, so fair warning (Kate's a former wedding planner, and she even used to work in a dress shop)  … we get all sorts of up in your wedding details.
One day, we started posting them, and found out our clients love them too! We thought we'd share a few favorites with you here.
PS: I will dance at your reception.