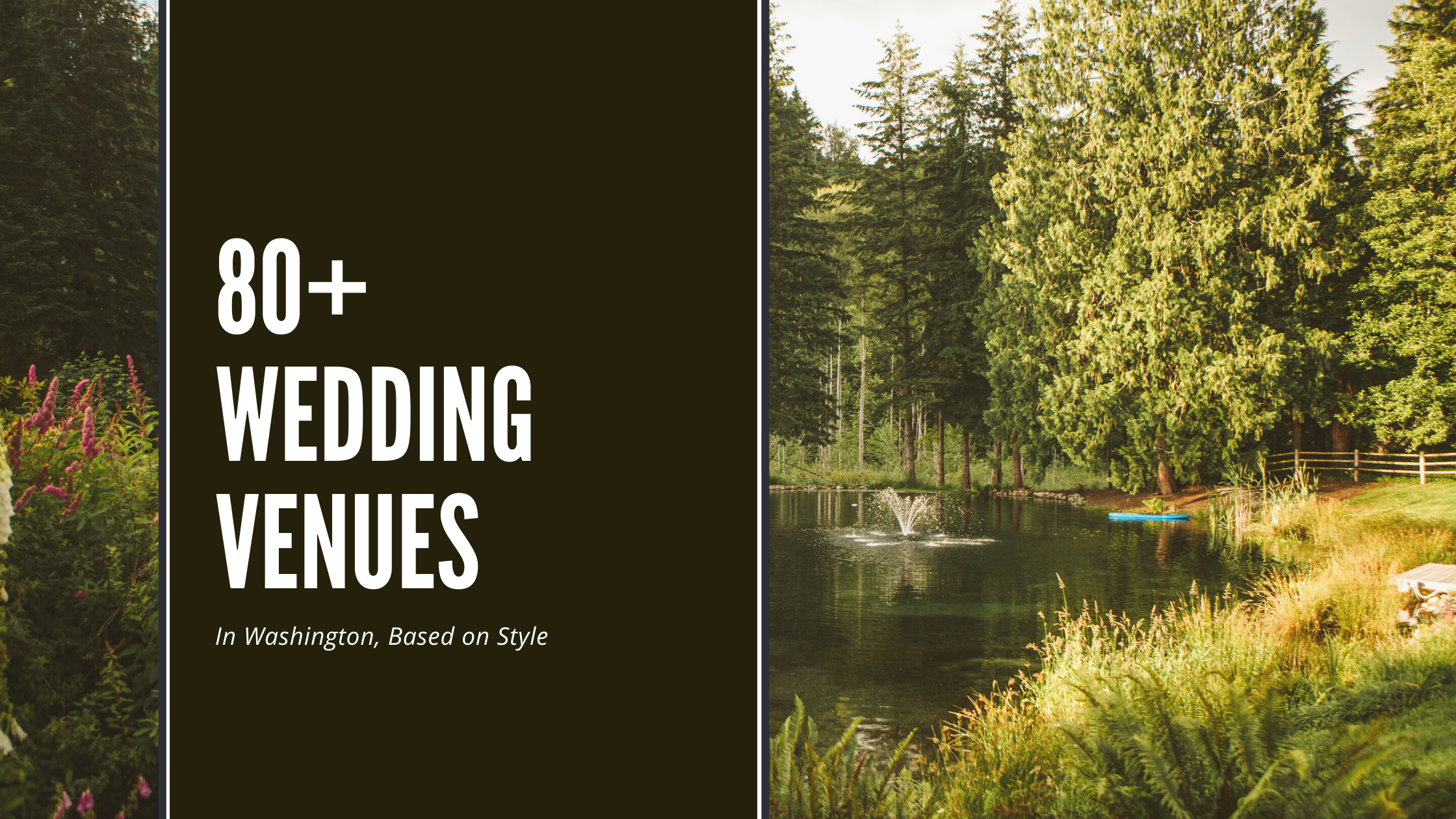 blog
,
elopement
,
inspiration
,
king county
,
seattle
,
skagit county
,
Snohomish County
,
vendor
,
venue
,
washington state
,
wedding planning
,
wedding tips
,
weducation
80+ Incredible Washington Wedding Venues You Should Consider Based on Your Style
Narrowing down which wedding venues you want to visit can be an incredibly overwhelming task. With over 600 wedding venues in Washington State, it can be really hard to know which venues will fit your style and taste – and which ones will be a waste of time.
You'll find some awesome hidden gems in this list of over 80 wedding venues sorted by 10 different styles to narrow down your search – we've made sure to include the city the venue is located in, too, to help you decide.
Looking for venues off the beaten path? Check this list.

If there is a specific photo of a venue you like in our gallery, please reach out to us and ask – we can tell you where it was.
Please note, some photos in this post are very old, and may not reflect our current style.
Visit the gallery, our facebook, or our instagram to get a better idea of our photographic style.
Want to skip right to your style? Click the link below.
1. FARMS AND BARN WEDDING VENUES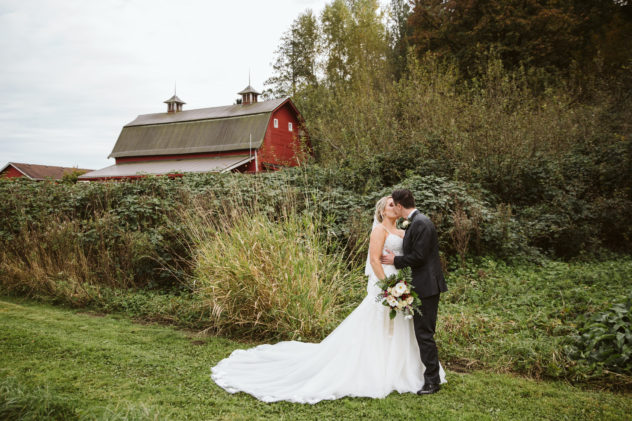 Pemberton Farm in Snohomish
This hidden gem venue sits along the Snohomish river, and offers a beautiful natural tree backdrop for your ceremony, and a full working farm property complete with cows, they have an outdoor reception space and a brand new large indoor reception area. There is a separate house with getting ready space for the wedding party.
The entrance has beautiful stone work and a weeping willow with the white fence line of your "Wedding in the country" dreams. The river access has a sandy beach when the river is low and makes for awesome sunset/golden hour photos and even a fun chance to run into the water in your clothes for more daring wedding couples.

Note: We offer exclusive pricing for Pemberton Farm couples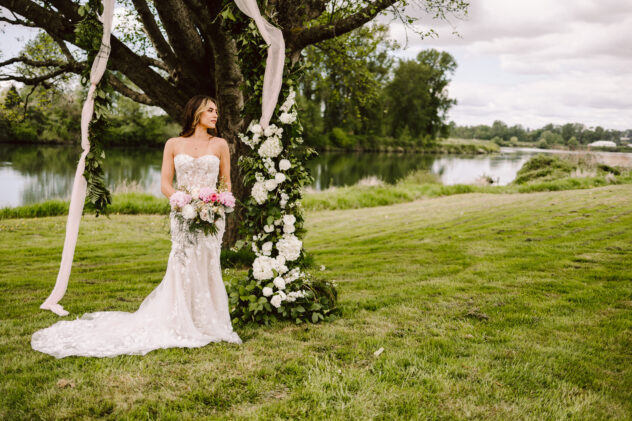 Marionfield Farm in Arlington
Buried in the farm country of Arlington, Marionfield is a red barn with loft surrounded by tall grass fields and gives you 2 golden hour opportunities. The upper loft is fully accessible and the fields are perfect for photos any time of day. There are two getting ready spaces – one in a tiny house and the other is in the barn loft.
Note: We offer exclusive pricing for Marionfield Farm couples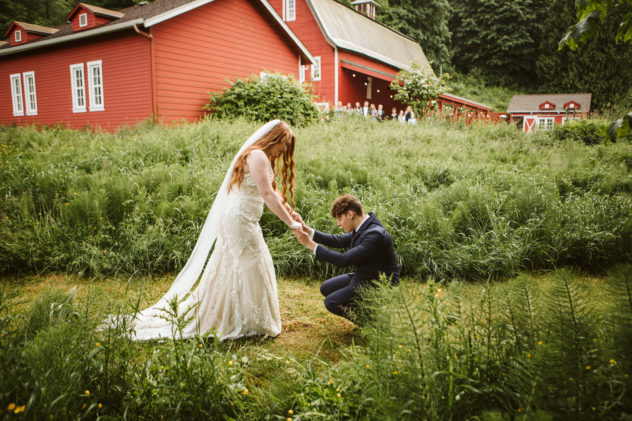 Barn at Holly Farm in Bothell/Snohomish
This green and white barn offers a lawn platform perfect for outside weddings facing the trees, and they have a great patio for small receptions. Getting ready space is two separate rooms on site. This venue has a philanthropic purpose – they provide equestrian therapy to local children. This venue provides small weddings only.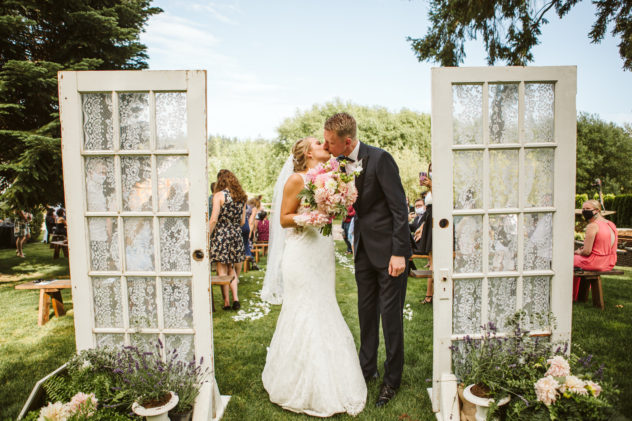 Trinity Tree Farm Barn in Issaquah
This barn is a dark wood barn, with the ceremony space intended to be among the trees at the tree farm. There is a private roof access area just for the couple. The reception space is primarily inside the barn but sprawls out onto the lawn and allows access to 2 separate fire pits (one traditional, one glass/gas).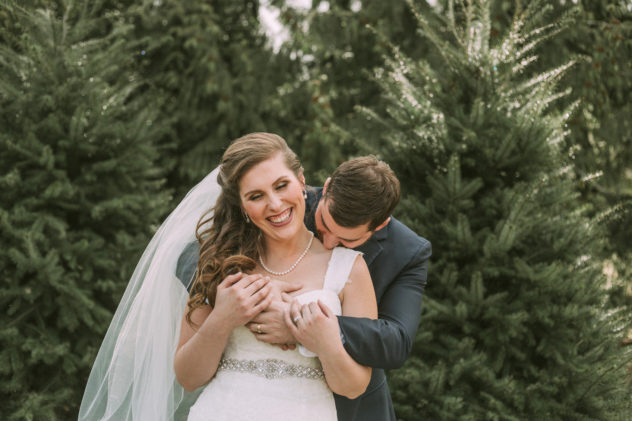 Pickering Barn in Issaquah
This is a red barn structure in Issaquah that connects to a community hall space. The property offers trees, a gazebo, and a few small trails for photo ops. The ceremony space is held within the red barn, which features medium to dark wood interior, and then the party moves into the community hall. Getting ready space are rooms right next to each other in the barn.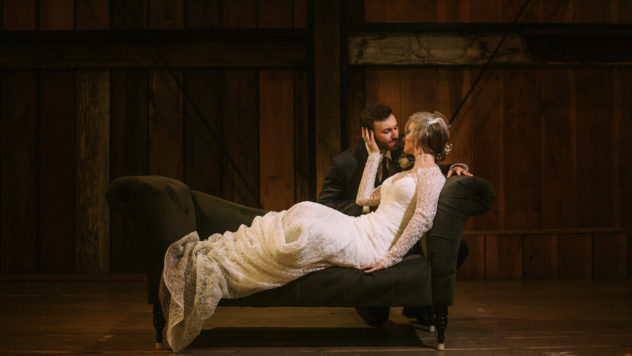 Wisteria Gardens in Anacortes
Recently under new management, this wedding venue has a red barn, and a silver grain silo structure. There are 2 separate getting ready areas on site, a designated ceremony space, and lots of trails and gardens for photos. The red barn opens on the doors closest to the grain silo (which is normally used as the bar). The reception is held inside the barn but can spill out onto the lawn.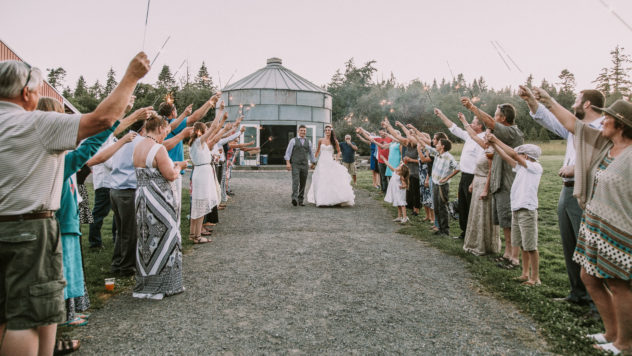 Farm at Swan's Trail in Snohomish
This farm is a popular spot during the fall for pumpkins and fall farm fun. During the summer months, it transforms into a beautiful wedding venue, and couples have use of the barn structure and the property. With several ceremony site options, and a comfortable reception space with fireplace, and beautifully maintained property, it's one you won't want to miss.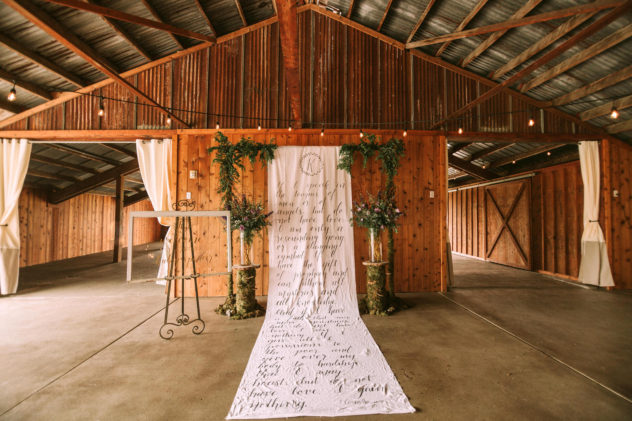 Crossroads in Snohomish
Right on Highway 9, this venue is spacious and easy to access. The privacy hedge-wall in front blocks much of the road noise, and the huge barn structure (a burgundy red) allows for both ceremony and reception indoors if desired, or the more popular option for ceremony is the back patio with fountain and fire pits. There is a back field that can be used for sunset/golden hour photos, too.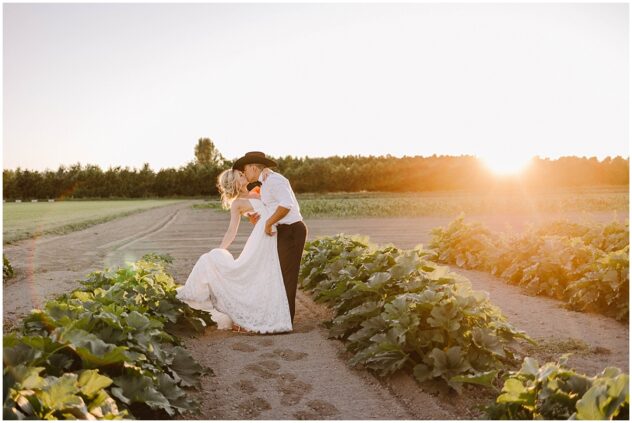 Ritter Farm in Cle Elum
This wedding venue has several unique pieces, including a ceremony by a pond and adorable little Shetland ponies that can escort the flower-girls in a sleigh. The property offers several different photo ops (including near the horses). The reception is held inside the barn (but fair warning, it's VERY dark inside and you'll want to probably need to hire in up-lighting and prepare your photographer).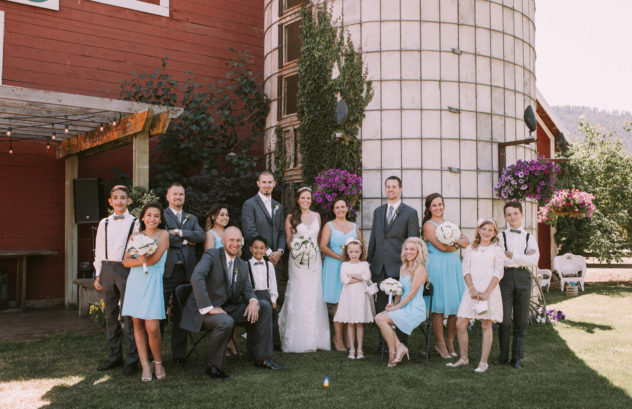 Pine River Ranch in Leavenworth
This property is just a bit outside of Leavenworth and hosts a big barn, lots of meadows and grass, and private getting ready space. You have indoor and outdoor ceremony options, and the upper barn is beautifully set up for your reception. This it also a Bed & Breakfast, so there are options for the wedding couple to stay overnight, and it's close enough to downtown Leavenworth that you can explore and enjoy the town.

** Kate has only photographed here as a second shooter for another photographer **
Saltbox Barn in Mt Vernon
This rustic barn is set in the fields with beautiful mountain views all around. It's an amazing mix of industrial and farmland, with giant concrete floors and wood beams. The have both indoor and outdoor ceremony spots, and their packages are very inclusive. You also have private getting ready areas on site.

** We have not photographed here yet, this is a bucket list venue **

Hampton Hideaway in Wenatchee
This property has a beautiful rustic white barn that backs up against an orchard. You can optionally add-on the houses for getting ready space. The field next to the barn is perfect for ceremony, and then the reception can be held inside the upper barn or spilling out onto the fenced-in lawn area. The orchard is usable for photos, and there is a field, the barn itself, and then a fence line that can be used for photos as well.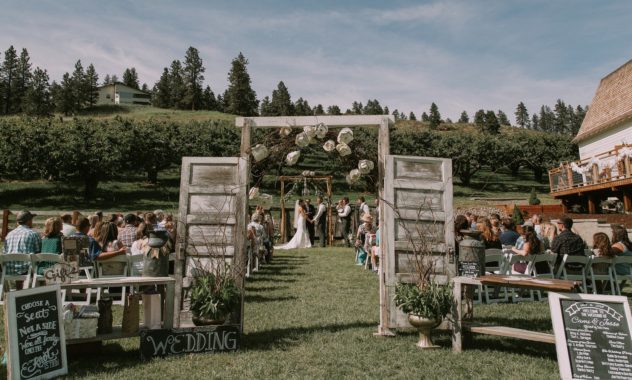 Machias Meadows in Snohomish
This wedding venue is one of the newer ones in this list. It's located roadside, and the reception area is actually in a brand-new modern pole barn structure with a lot of windows facing out onto the property. There is an older red barn on site, as well as river access to the Pilchuck and 20+ acres with an active farm.

** We have not photographed here yet, this is a bucket list venue**
Farmhouse Rose in Snohomish
This is a new venue with a white barn and adorable white farmhouse for getting ready, along with a firepit and open fields and a gorgeous tree line that creates sunset glow.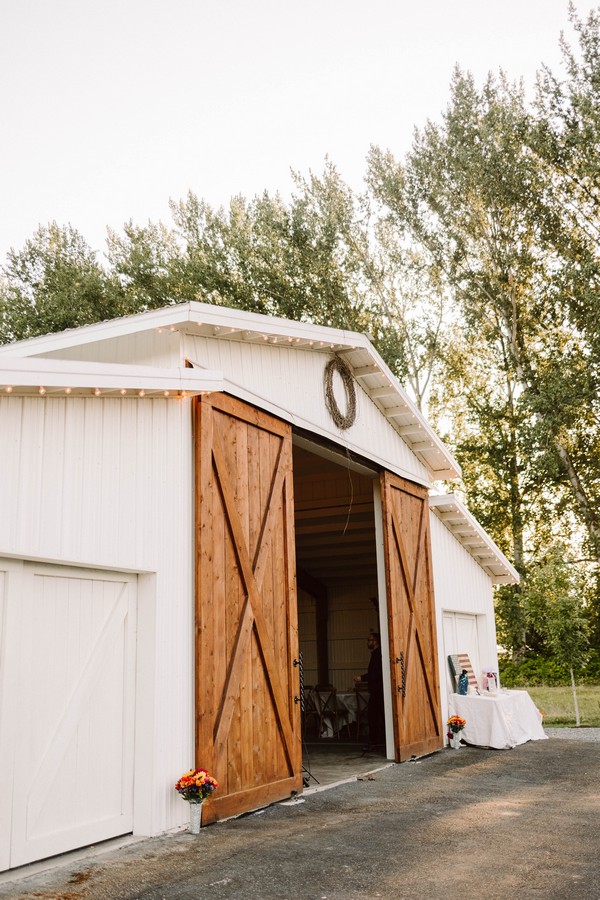 Olson Mansion in Maple Valley
This venue is right off the road, and easy to find. There is a brown barn building and a white plantation style mansion on site. The mansion holds the getting ready space, and right next to it is the outdoor ceremony site. Then, a short walk down the property is the brown barn. This barn is spacious, with a loft, and your reception is set up both inside the barn and out on the patio.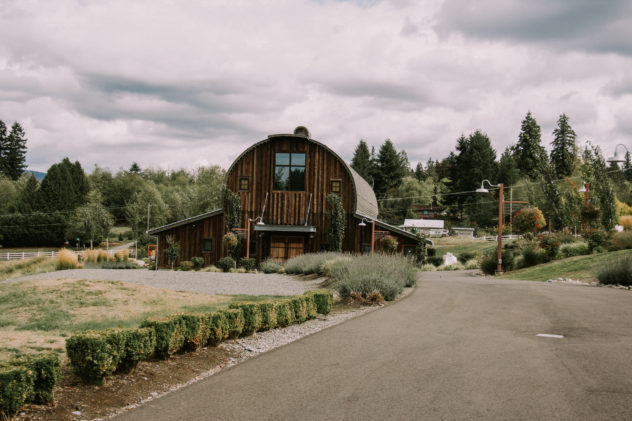 ---
2. PNW ADVENTURE WEDDING VENUES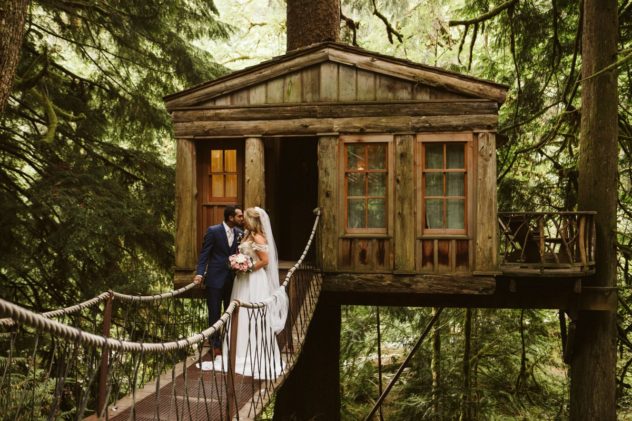 Treehouse Point in Fall City
This venue is nestled in between Preston and Fall City, and is home to some of the gorgeous treehouses built by Treehouse Masters. There are several beautiful locations on property for your ceremony – including a site designed just for that. This is definitely a venue for smaller weddings, although it does have two separate reception spaces – one in the lodge space near the pond, and the other under the tent cover near the Main Treehouse offices.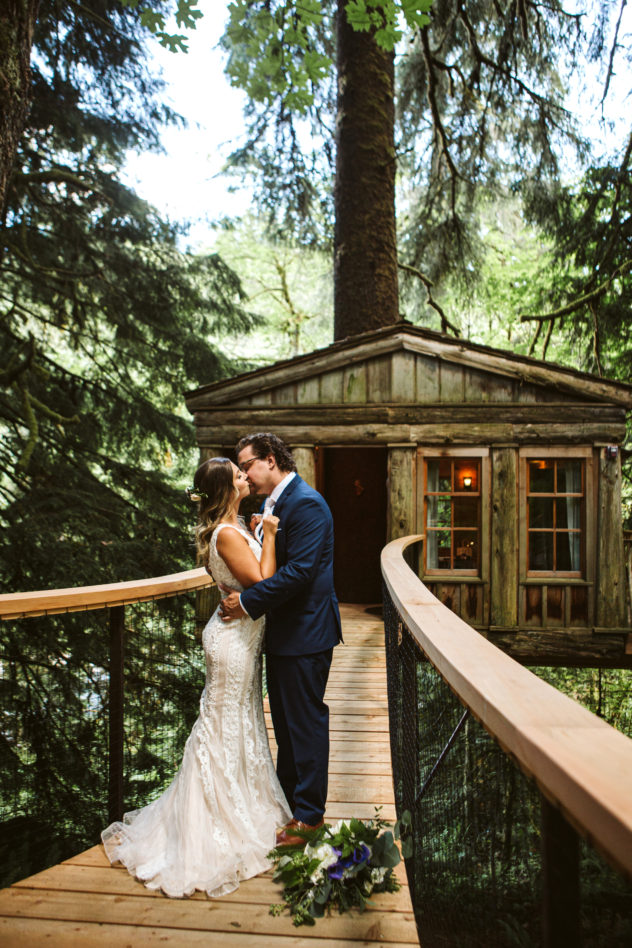 Emerald Forest Theater in Redmond
Who doesn't want to get married in a magic tree fort?!? This place is one of a kind – with a giant treehouse with netted lounging areas, zipline, huts, and a movie theater screen, this Redmond oasis is perfect for small weddings (keep in mind, it's quite a hike back to the space itself on uneven ground, so this is not recommended if anyone has mobility issues).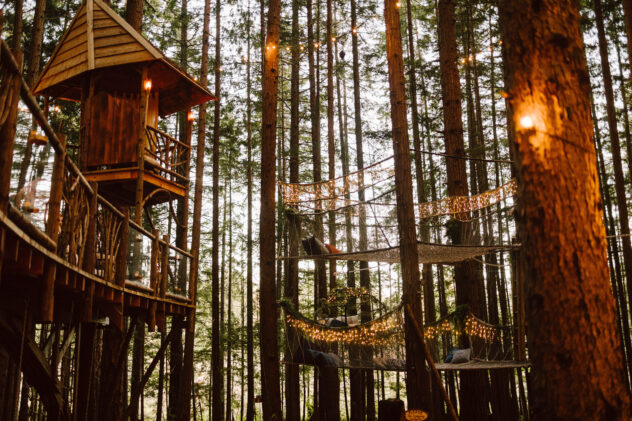 Shangri-La on the Green in Enumclaw
This venue is a hidden gem, and one of those that is built for people who love to camp in the PNW – camping on site is even allowed! Be aware that the property is natural, so lots of mud and puddles on those rainy days. The property has river access, a waterfall, a huge open meadow and forests. There is also an A-frame that is perfect for the food and buffet area, and a lot of table space and fire pit just outside of that structure.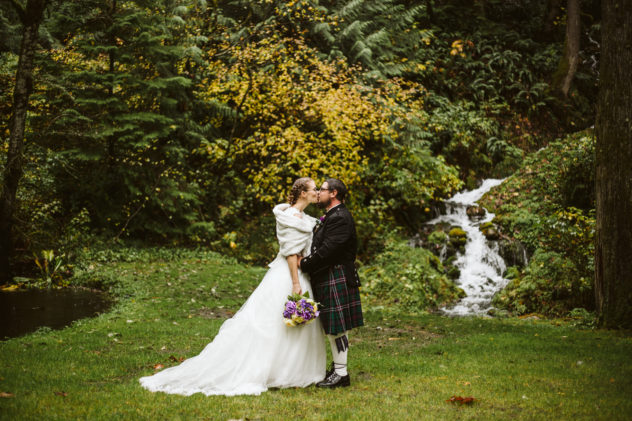 Kitsap Memorial in Poulsbo
This is another camper-friendly venue, although you can also rent one of the on site cabins. This venue tends to book out one year in advance or more (as in, they open the books at the one year date for the following year), so pre-planning is required. There is beach access, forests, a field, a lodge with dark wood walls, and an undercover outdoor space (optional).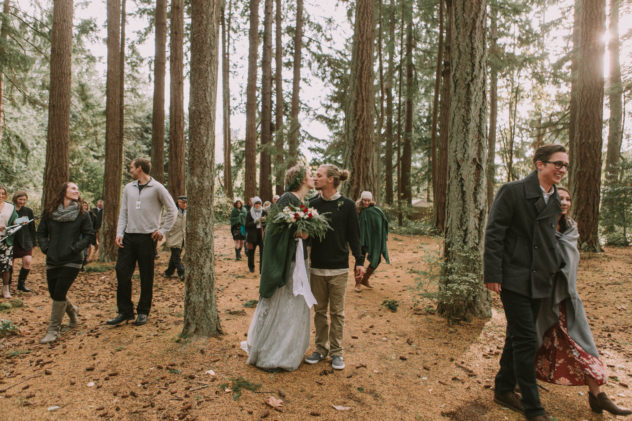 Suncadia Resort in Cle Elum
This resort has options for both larger events and smaller intimate elopements. The views are unbeatable, even in winter. There are plenty of photo ops surrounding, especially if you're willing to go on a photo adventure with us!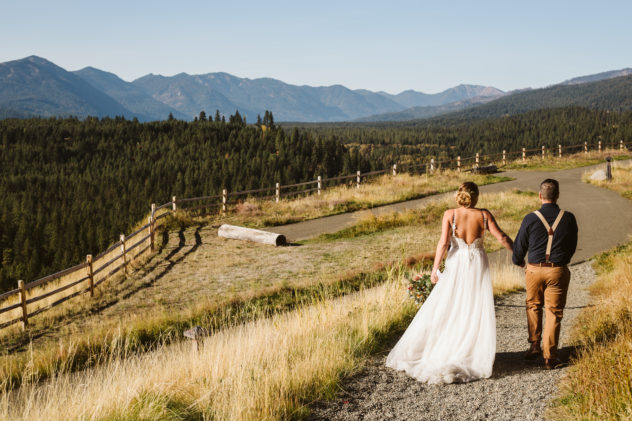 Shadow Mountain Events in Chelan
Add another much unknown venue to the list – Shadow Mountain quickly became one of our faves at a wedding a few years back. You will need to get ready off-site as this venue does not have getting ready space available, but the incredible views, wide open reception area and dance floor totally make up for it.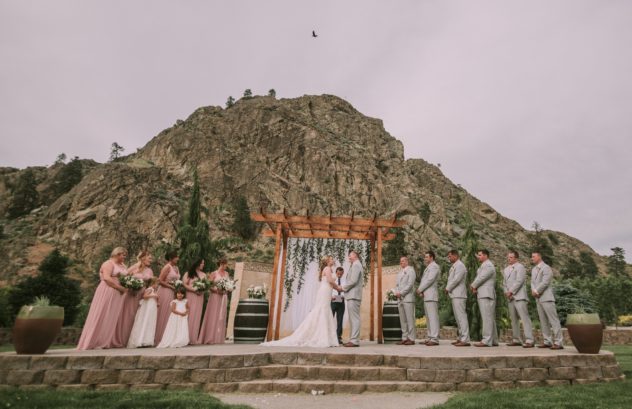 NW Trek in Eatonville
If you've ever been to NW Trek, you'll know it's got PNW written all over it. The bonus – it actually features 3 different venues for your wedding. You can choose lake-side, picnic pavillion style, or indoors at the cafe.
** We have not photographed here yet, this is a bucket list venue**
---
3. WATERFRONT WEDDING VENUES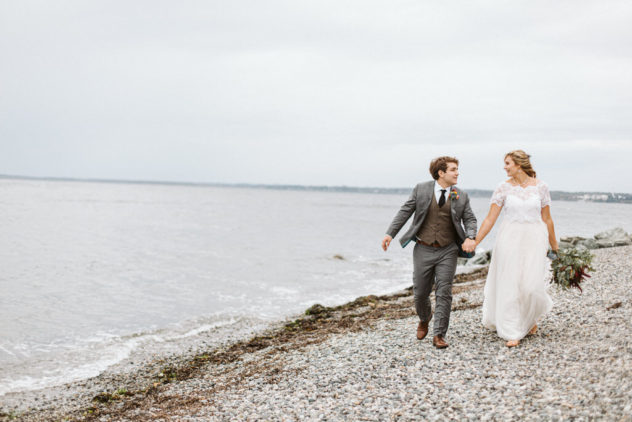 Golden Gardens Bathhouse in Seattle
This building is a great place to host both your wedding ceremony & reception, or just your reception. You can choose to get married inside the brick building or outside in the meadow, and your reception is set up inside the building. The brick building has a classic look with high windows that face the beach. This is still a public park, so just know that not everything will be reserved only for you, and ceremonies on the beach are not allowed.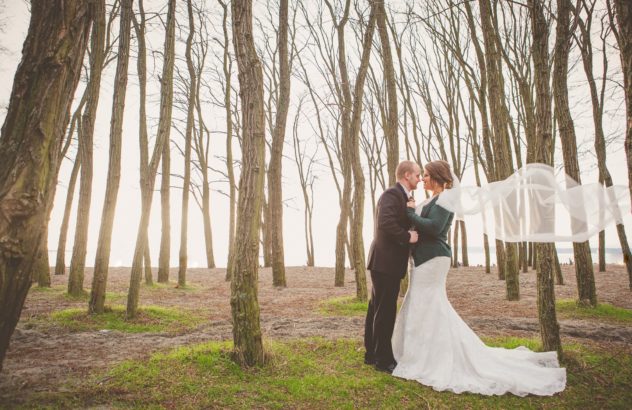 Nature Bridge Olympic in Port Angeles
This venue has a philanthropic bonus – they provide environmental training classes to over 700 local schools. Your rental also includes exclusive use of their entire property, including a lodge and the outdoor waterfront spaces, or their large hall for indoor weddings. They also have cabins on site that can be rented by you, your wedding party, or guests.
** We have not photographed here yet, this is a bucket list venue**
MV Skansonia in Seattle
If you've ever dreamed of getting married on a boat, this is the venue for you! This boat is permanently anchored in Seattle, with a pristine view of the Space Needle on clear days. You'll need to get ready off-site, as the rental time for this venue is shorter – but you'll want to anyways, as you'll likely take most of your photos off the boat. The interior of the boat is white and bright, and it features a built in bar area and plenty of dancing space for a small to medium wedding.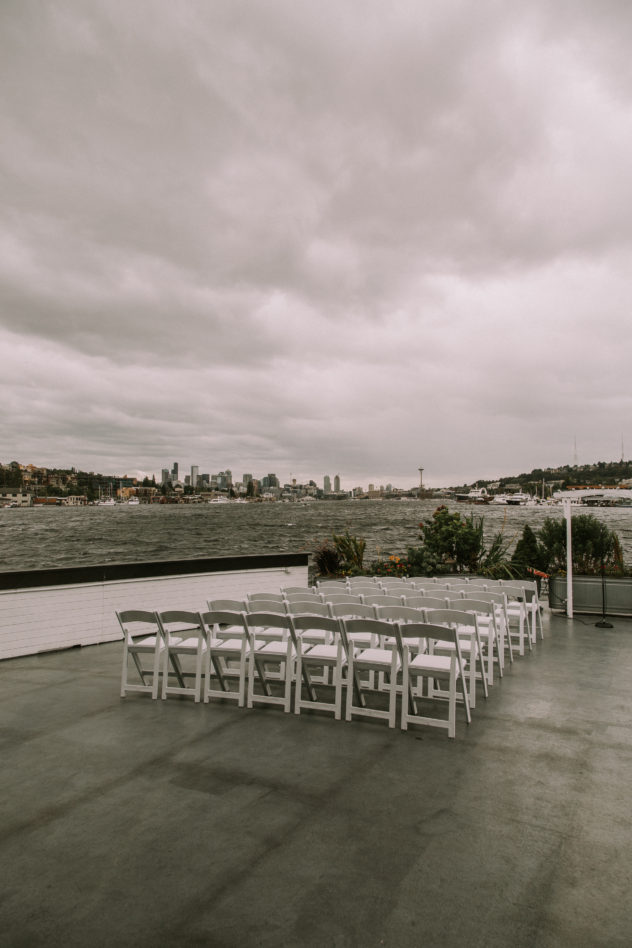 Port Gamble Weddings in Kingston
This wedding venue sort of feels like you rent an entire town. The reception area is a waterfront structure, and in the summer it spills out into a large white tented area. The lawn is separated from the beach by a white fence. Down the street is a park perfect for photos, and a quaint town with amazing buildings set in time periods past.
Most ceremonies happen in the blue steepled church in town, which has blue and white interior and a bell the couple can ring after they say their vows. You'll want to rent a local airbnb or vrbo to get ready in, as there really is no space to do so on site.
Note: We offer exclusive pricing for Port Gamble Weddings couples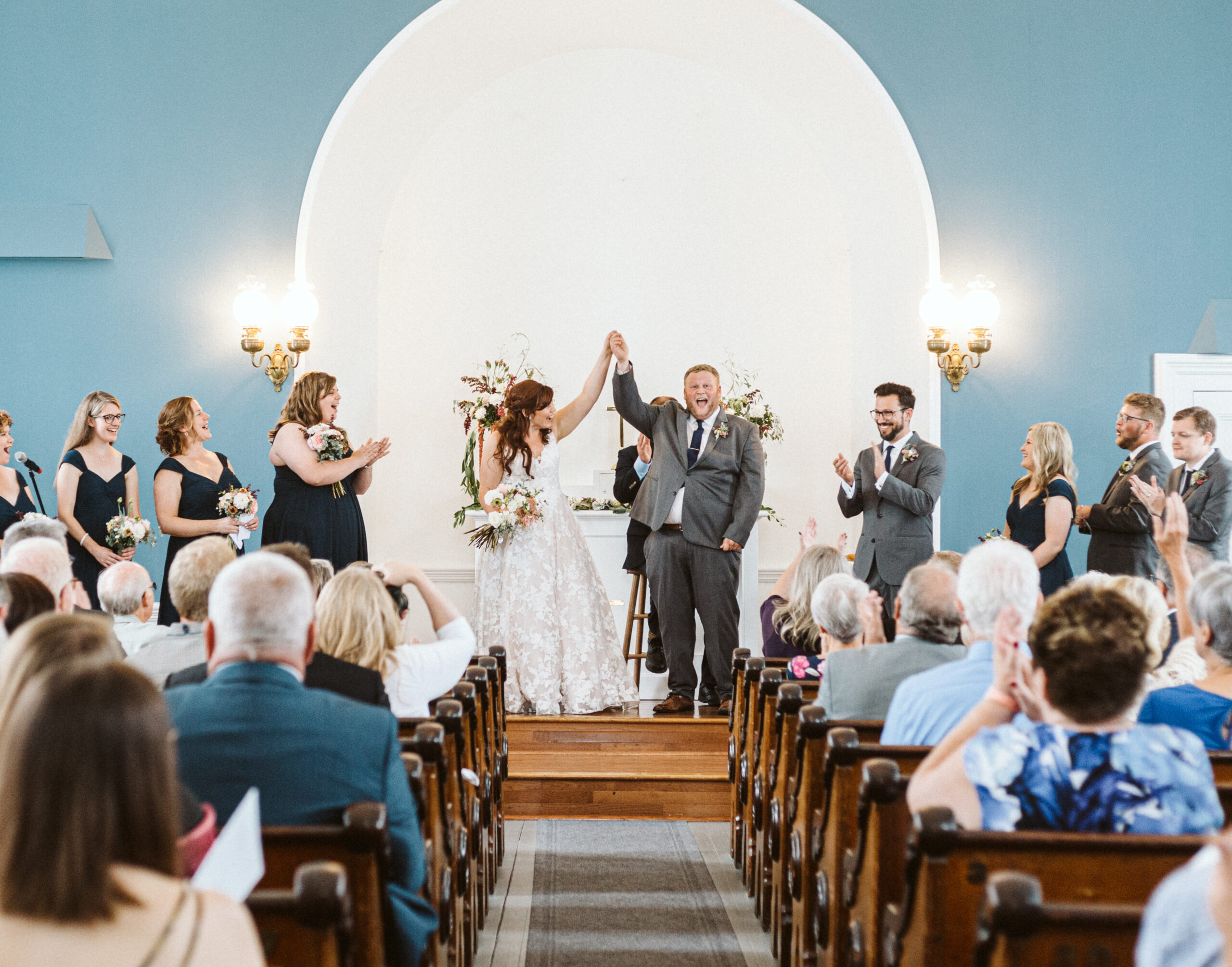 Bellingham Cruise Terminal in Bellingham
The terminal Dome room is a beautiful space, with a windowed dome facing out onto the water. It's spacious, and the entire upper floor has space for your cocktail hour and food serving/bar areas. There is a full prep kitchen on site, and the rental includes use of the upstairs area (aside from office rooms). The ceremony can be held inside, or there are several parks nearby that you can rent for your ceremony that offer wonderful water views, too. You'll want to get ready off-site.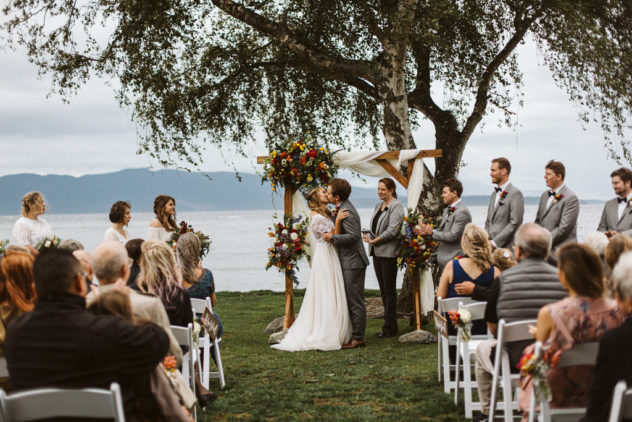 Sadie Lake Events in Arlington
Located on Sadie Lake, this property is 18 acres of beauty. There is a ceremony space right on the lake giving you that private waterfront experience. They offer an indoor barn venue area or expansive outdoor space with canopy. There is an accessible dock on the lake for your portraits.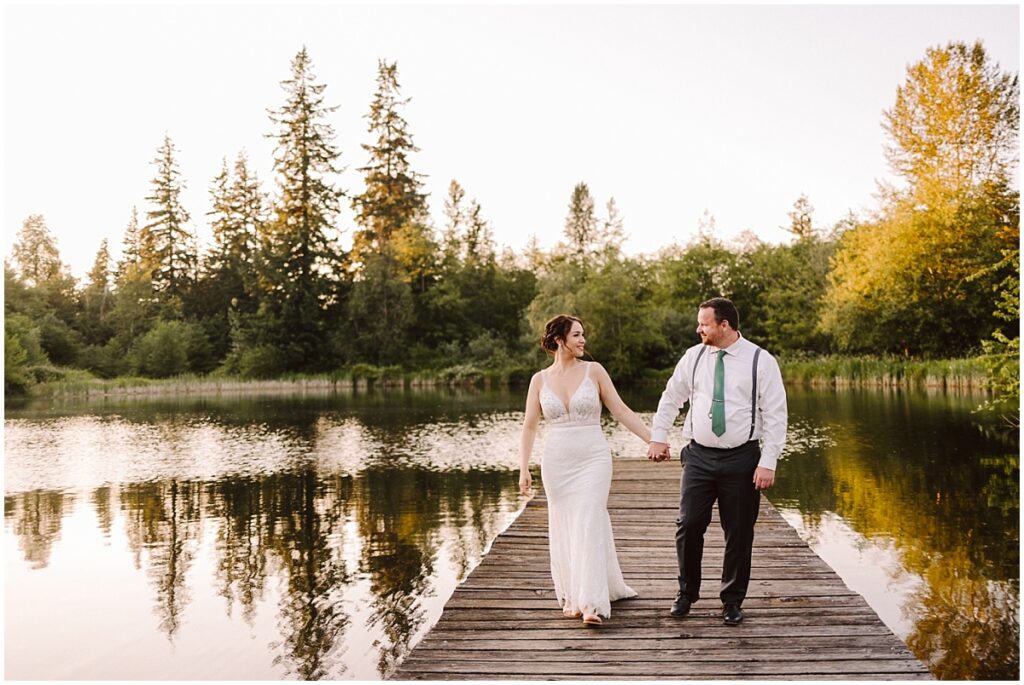 Roche Harbor in Friday Harbor
Located in the San Juan Islands, this 130 year old property sits alongside the marina and has expansive waterfront views. There is a yard or indoor area for your ceremony, and you have access to the town, docks and so much more for photos.
** We have not photographed here yet, this is a bucket list venue**
Salty's on Alki in Seattle
Salty's sits on Elliot Bay and offers a spectacular waterfront setting for your wedding. They have 3 smaller event rooms that can combine to create a large event space for up to 240 seated guests (when allowed). This space is best used as a wedding reception venue, so you'll want to book/plan to have your ceremony somewhere else.
** We have not photographed here yet, this is a bucket list venue**
Alderbrook Resort in Union
Alderbrook Resort is a beautiful wedding venue with water, mountain and garden views. They offer multiple spaces to rent from board rooms to waterfront spots and everything in between. They also have over 25 add-on experiences for you and your guests. This is ideal for the couple who want the full best-of-the-PNW-wedding experience for not only themselves, but the people they love.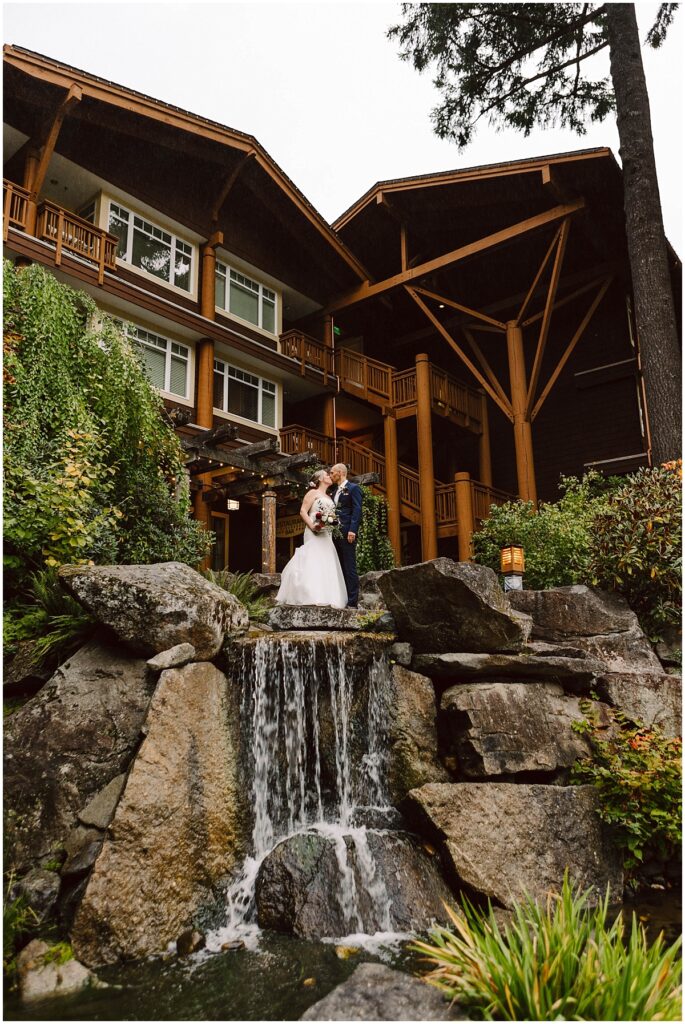 ---
4. MANOR/MANSION WEDDING VENUES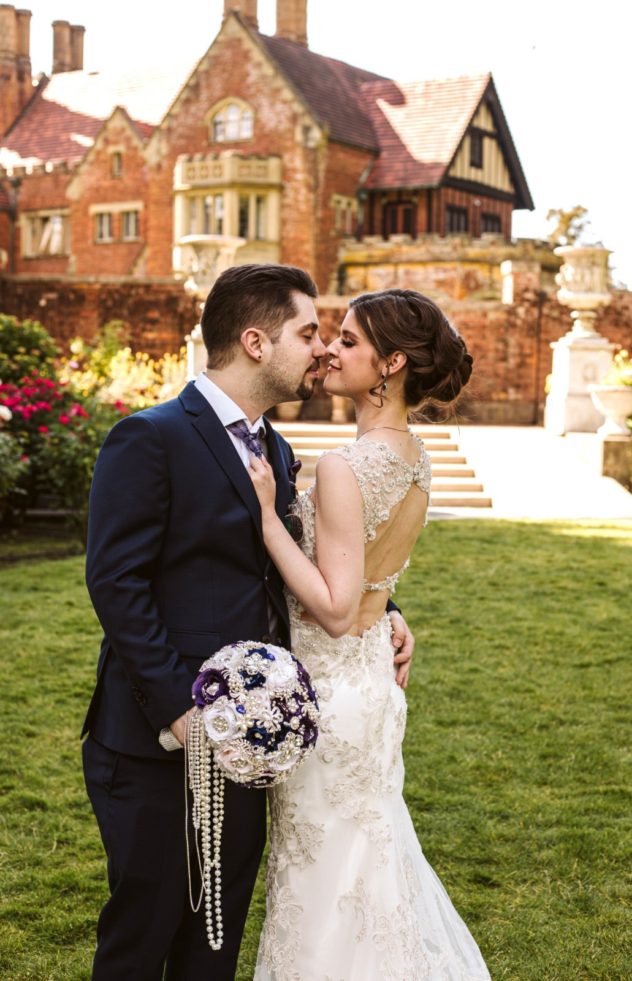 Lairmont Manor in Bellingham
This 100 year old manor boasts 25 rooms and a sprawling estate. With beautiful indoor and outdoor architecture, the venue screams detail and immaculate care. This venue is geared towards more intimate events, and the property houses gardens, a fountain and statuary. There are both indoor and outdoor ceremony options.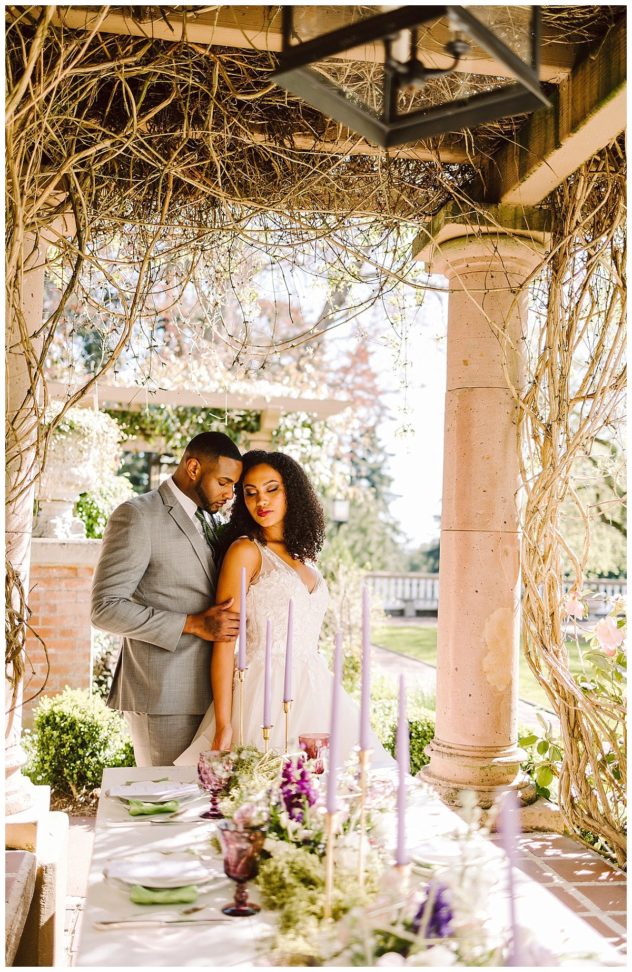 Thornewood Castle in Lakewood
Thornewood Castle has a famous history, being the mansion used in Rose Red. It's now more commonly a wedding venue and overnight accommodations. The rental window for this venue is short, so make sure you book somewhere off-site to get ready. The venue is decorated to a castle-esque T: fountains, a large garden (with outdoor ceremony space), an oversized chess board near the main castle, a ballroom, and the ever-popular Hall of Mirrors (on the 3rd floor, only accessible by the couple).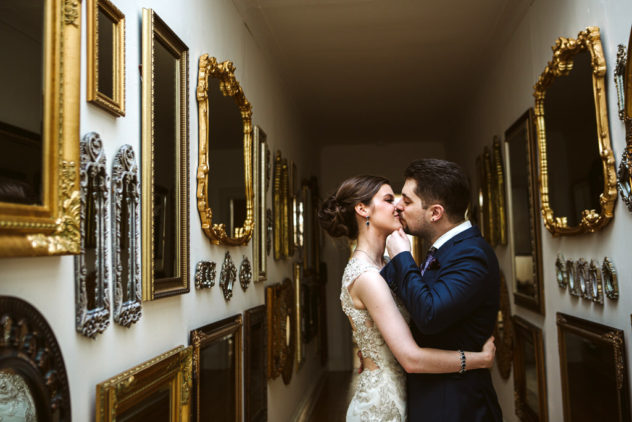 Oakshire Estate in Yakima
We a huge estate and 5 different locations for your wedding, you can plan something huge (when allowed) or something intimate and have the perfect place for your vision. If the tree-lined road wasn't enough of a reason to book (hello fairytales), the brick manor with pillars, fountains and gardens may push it over the edge.
** We have not photographed here yet, this is a bucket list venue**
Laurel Creek Manor in Sumner
This wedding venue is easy to find and has ample parking. The back lot has beautiful willow trees usable for portraits, and the property itself is laid out well. There is a fountain the front yard, a main house with getting ready space (and a complete kitchen). The ceremony site is out in back of the house so that road noise is barely heard, and the reception is under a tented area that spills out onto the patio.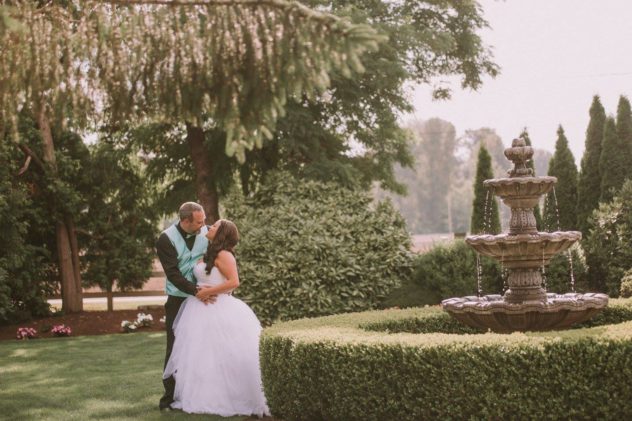 Georgetown Ballroom in Seattle
This dramatic venue has a grand staircase, exposed brick work, stages, mezzanines, a private courtyard and separate getting ready spaces on site. They also have in-house stage lighting and upright piano. The venue rental time is 9 hours.
** We have not yet photographed here, this is a bucket list venue **
Rainier Chapter House in Seattle
This mansion is located in a neighborhood in Seattle. It will require off-site parking and shuttle, and you'll likely also want to book somewhere off site to get ready. The downstairs has a smaller ceremony space and a designated buffet area. The upstairs area is large and spacious, and can hold a ceremony but is perfectly suited for a reception and dance floor.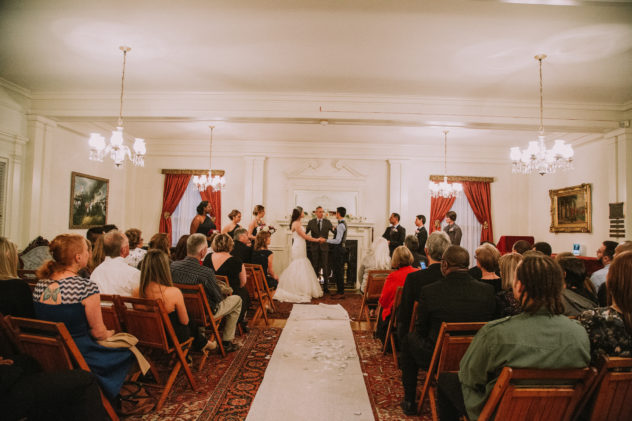 ---
5. ESTATE WEDDING VENUES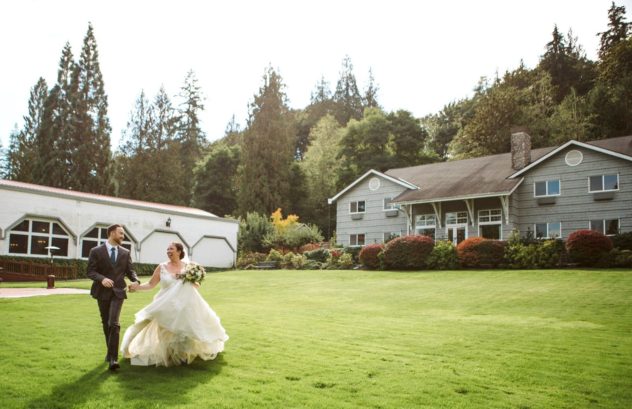 Gray Bridge Event Venue in Sultan
This is another one of those hidden gem venues. This estate is set back in a neighborhood in Sultan and has ample parking. There are horses on your right as you walk up to the reception tent. The tent sits over a permanent paved patio, and has plenty of space for a large event (when allowed). Next to it is the designated ceremony space with wood benches and white rock aisleway … and it backs up to a pond with a fountain.
As you wander from the reception tent towards the designated dance floor and party area, you'll pass a permanent bar structure, the fire pit for s'mores, and then a beautiful bridge crossing the pond, with more fountains on either side. The dance floor is lit with intelligent lighting, set up to make your photographer's job easier all night long.
Note: We offer exclusive pricing for Gray Bridge couples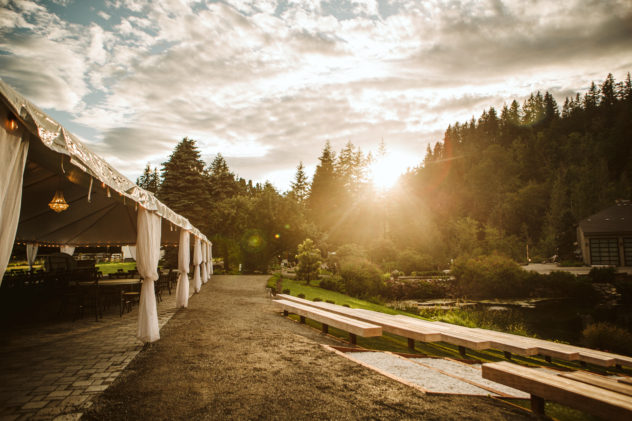 Carnation Farms in Carnation
This is one of our favorite venues, just for the sheer volume of space you have for your event. This venue has incredible views – farmland and mountains and trees surround. There is a rose garden for your outdoor ceremony, a fire pit, a huge indoor space for your reception with sprawling lawn and patio, a smaller house area that can serve as a space for kids to be cared for, getting ready space on site, and you can add-on the ability to stay on site in the quarters (which are rumored to be haunted for my ghost lovers out there).
Note: We offer exclusive pricing for Carnation Farm couples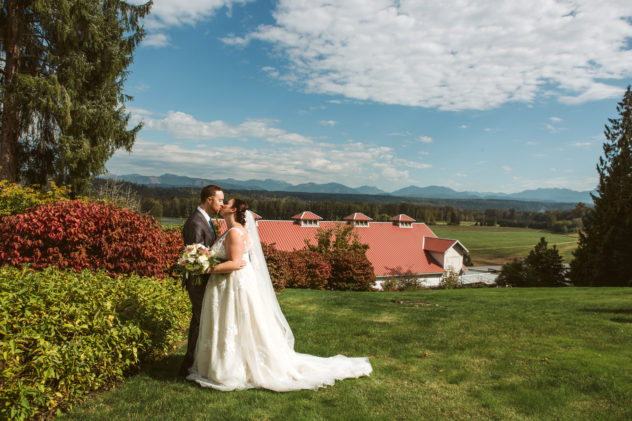 Olympic View Estates in Lake Stevens
OVE is located in a residential area in Lake Stevens but has an incredible view and a set up that makes you feel like you're not close to other people. Their entire space is set up to be a fully permanent venue. They have parking in the back with gardens between, a covered reception space and building for food and dancing, a beautiful designated ceremony space (see below), a koi pond (which mostly remains covered), and separate getting ready areas all on site.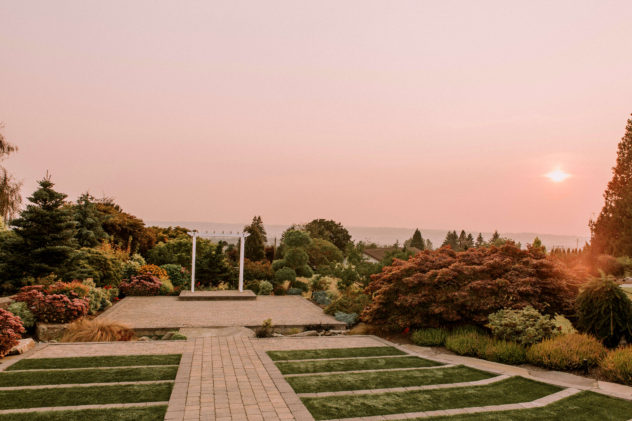 Rock Creek Gardens in Puyallup
This estate is filled with impeccably manicured hedges that give it a majestic feel, it's ever popular lit LOVE wall, a designated ceremony space, pond, and lots and LOTS of photo options. There is a getting ready house on site, but the interior space is small. This would be the ideal event space for an outdoor wedding and reception, as the sprawling lawns give you plenty of room for tables and yard games alike.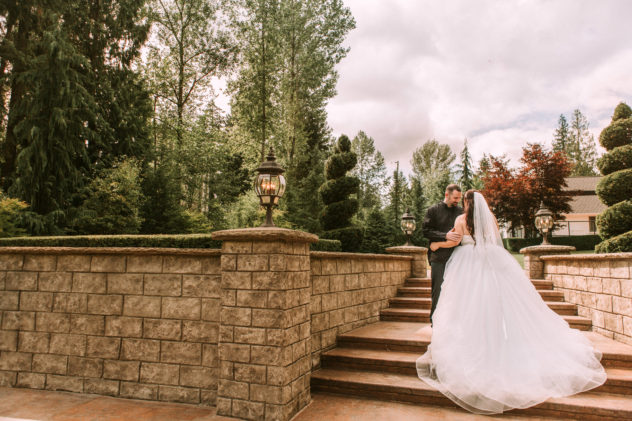 Black Diamond Gardens in Black Diamond
To us, there are two things that set this venue apart: the giant greenhouse space for receptions, and the private pond with boat. Of course, we can't help but mention the designated ceremony site with wood wall, and the dance floor area that sits next to a fire pit. There are also separate getting ready spaces on site (the guys get a motorhome)… but the greenhouse really sells it all. There is so much room, and it's so bright and light and beautiful.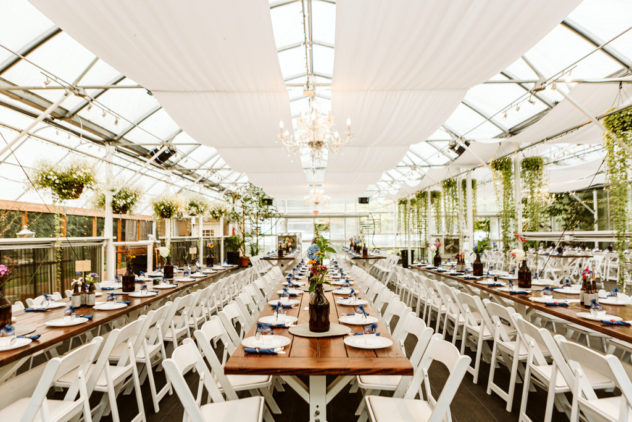 Big Wood Lodge in Mt Vernon
Ok, this isn't *technically* a venue, but they have had small weddings on their property before, and MAYBE if you have a small one and ask nice, you'll be able to. Where else would you find a private pond with waterfall and sandy beach with palm trees in Washington state?!? Even if you don't have your wedding here, if you're getting married near Mt. Vernon, book this place to get ready!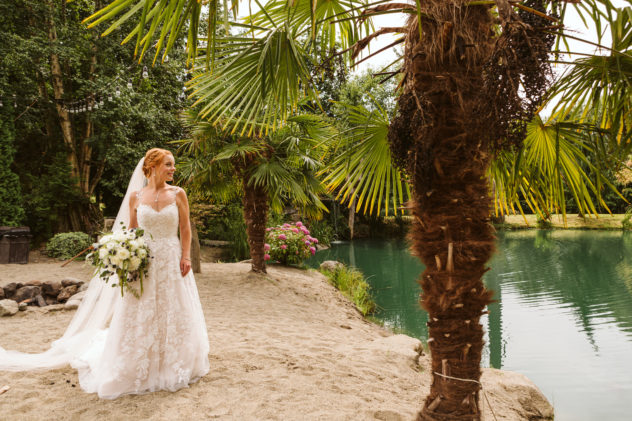 Parties on the Terrace in Redmond
This property in Redmond includes a beautiful grand lawn and banchetto plus covered patio for your event. There is an on site getting ready suite, fire pits, yard games, hammocks and a two person swing in the laurels… and they offer an off-site shuttle service for your guests.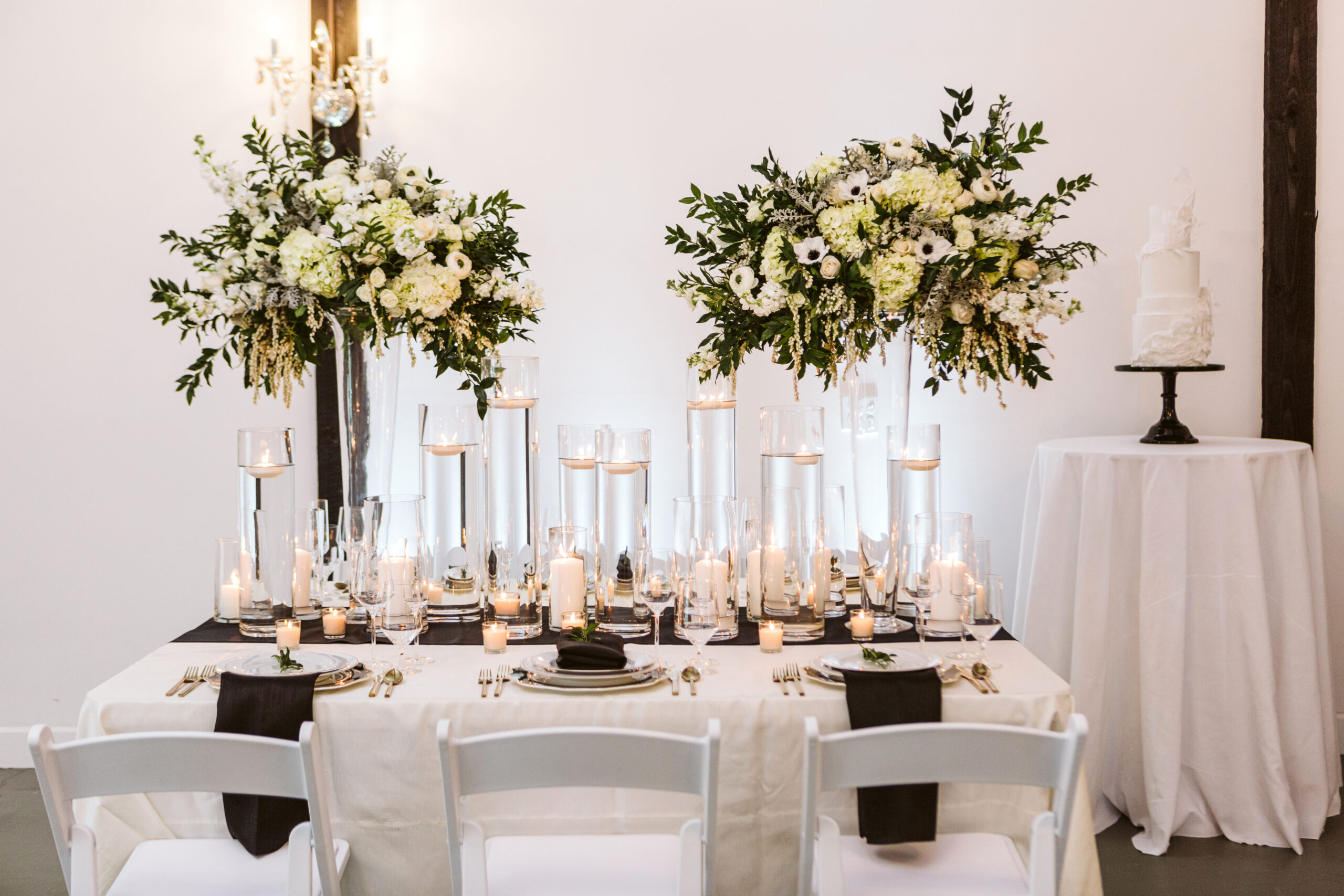 ---
6. LODGE WEDDING VENUES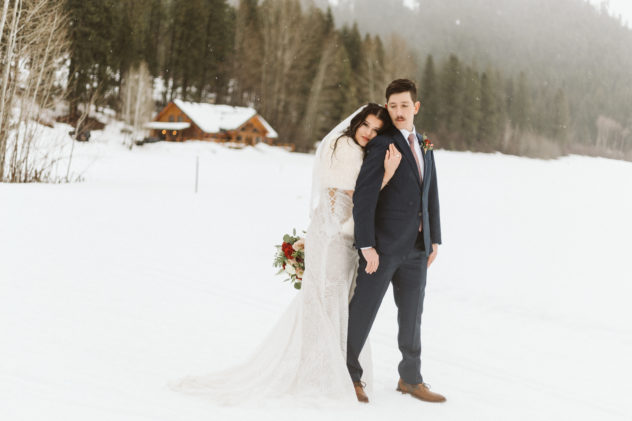 Beau Lodge in Bow
Beau Lodge is down a winding road through a neighborhood, but once you drive on the Lodge's 90 acre property, it's like you've been transported to an entirely different world. There are gardens, a pond, trees, at least 5 different ceremony sites and multiple reception locations including the Lodge itself. There is getting ready space on site, and a full kitchen in the Lodge.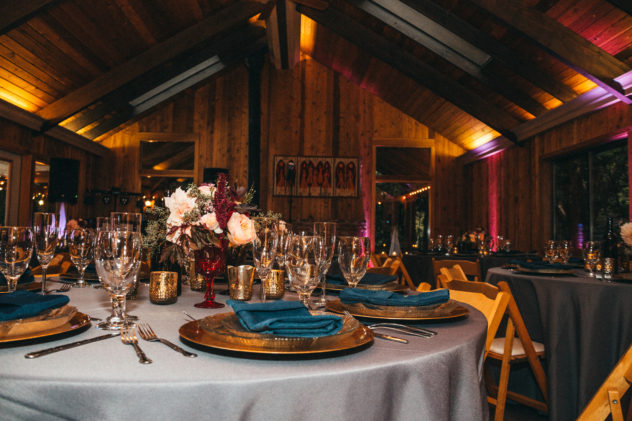 Trinity Tree Farm Lodge in Issaquah
Out of the two Trinity Tree Farm properties, the Lodge is our favorite. The white lodge building is perfect for indoor receptions, and the getting ready space is large and spacious for both parties. There is a permanent bar structure and a prep kitchen, as well as a beautiful lawn that is ideal for an outdoor ceremony with trees in the background. There is also a glass-walled firepit in between the main house and the Lodge building for gathering.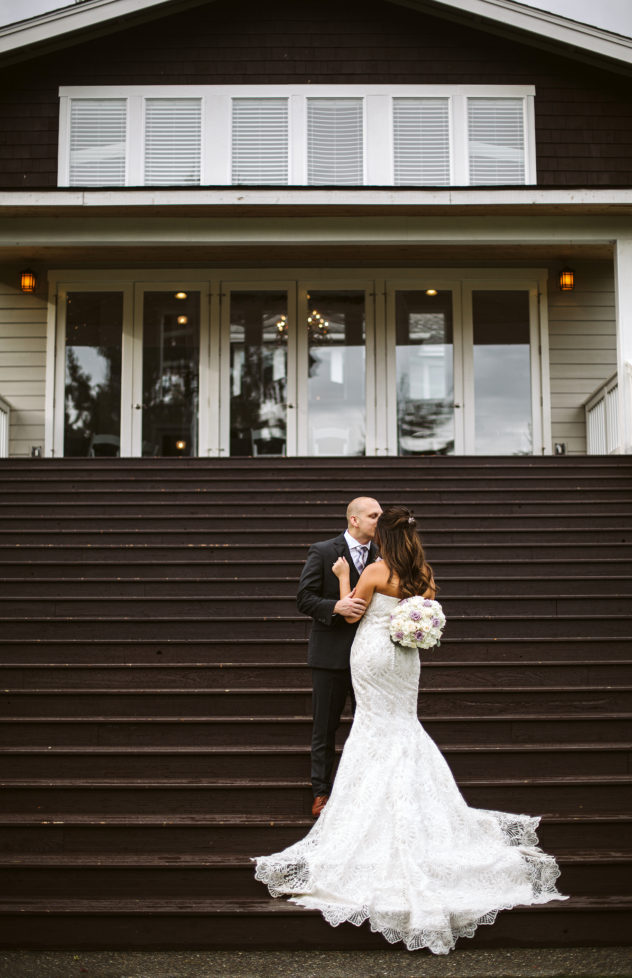 Mountain Springs Lodge in Leavenworth
We've only worked at Mountain Springs in the winter, so we can't speak to the summer experience, but… this venue is stunning. Surrounded by trees, a pond on site, a horse-drawn carriage, two separate Lodge buildings, delicious food, and an awesome serving staff, this is definitely a venue built for a party & an awesome experience. It's also close to town, so you can enjoy the weekend here and sight-see (or wine-taste), too.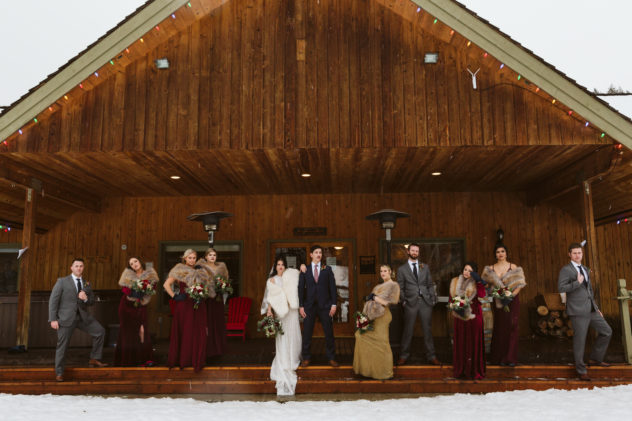 Kiana Lodge in Poulsbo
This waterfront lodge sits right up against a sandy beach (when the tide is out), and boasts 6 acres of gardens, a grand lawn, and 2 indoor spaces for your event, large and small alike. The Garden Atrium indoor space has full-view ceilings and exposed wood walls and trusses. The Main Lodge is everything you'd imagine of a Lodge, with hunting trophies, dark wood walls and a small spiral staircase.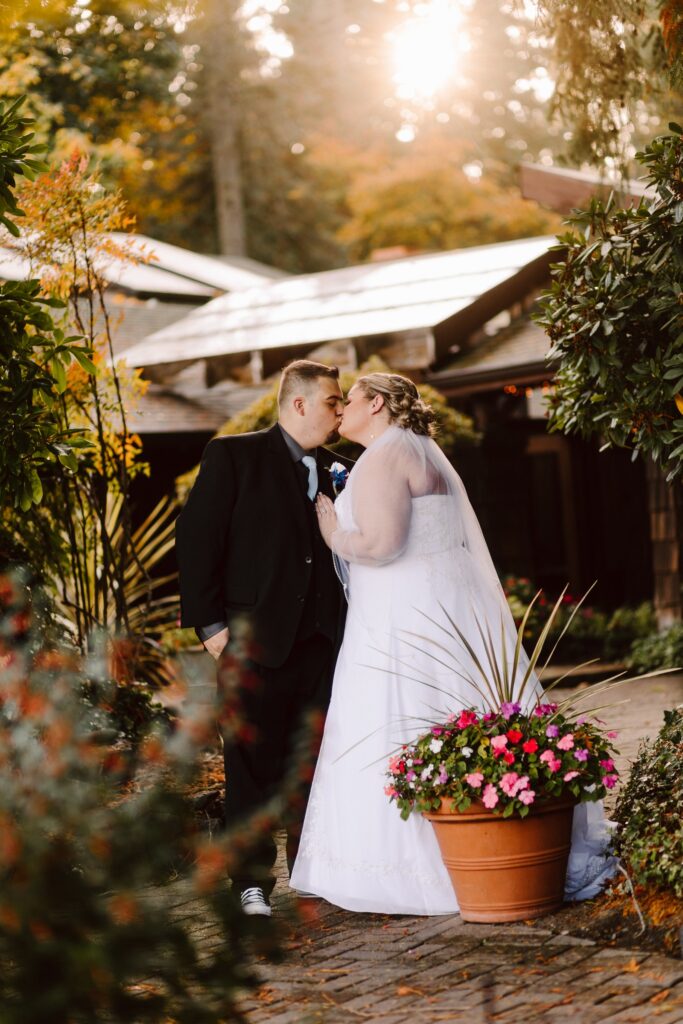 ---
7. WOODLAND AND GARDEN WEDDING VENUES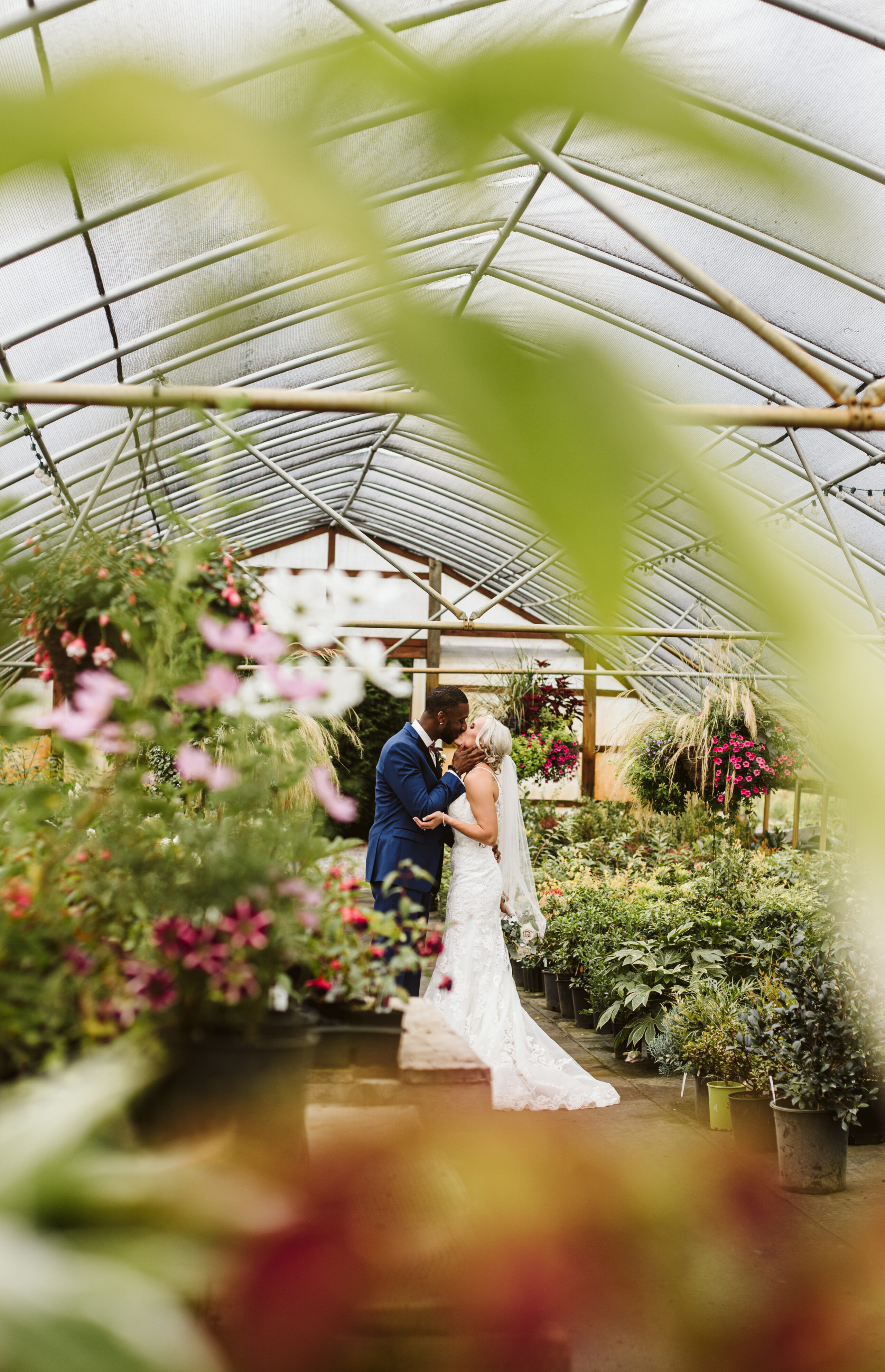 The Lookout Lodge in Snohomish
This venue is tucked into the woods in between Snohomish and Granite Falls. They have a gorgeous large wood trellis and split log bench seating in their ceremony space, a cement patio with tenting (40×40) for their reception area, designated dance floor area and getting ready spaces on site. They have a view of Mt. Pilchuck and are surrounded by old-growth trees – with a peeking view of Lake Stevens from the back property. They also have a full competition size beach volleyball court (with sand!). They allow sparkler exits (when there's no burn ban in effect).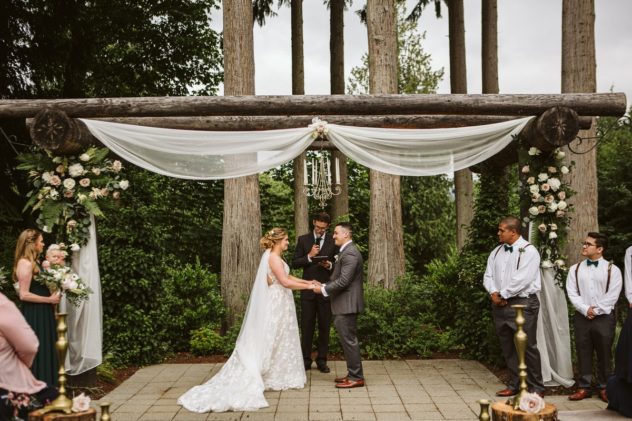 Winding Path Gardens in Arlington
This venue has the most floral on site out of almost every venue on this list. They mean it when they say Winding Path too – there is a giant maze of flowers and hedges leading to a patio with a fountain at the center. There are many other beautiful spots on the property including the permanent ceremony site, sunflower field, and the covered reception space. They also have tiny houses on site for getting ready.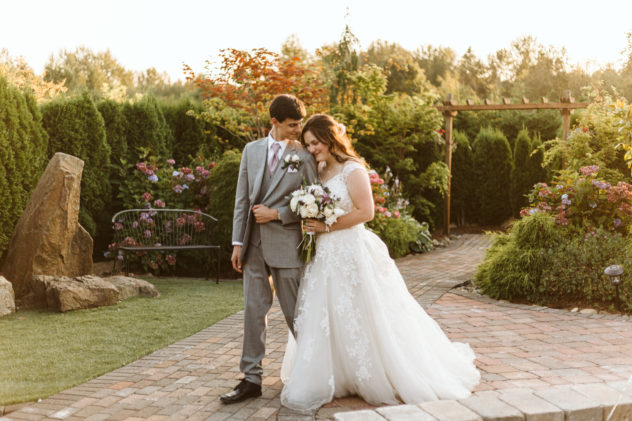 Pine Creek Farms & Nursery in Monroe
This venue is an active nursery, and they actually also offer awesome floral for weddings. This venue has lots of parking down below so cars aren't seen during your event. They have a few greenhouses and garden spaces that can be used for photos and getting ready space on site. There is also a pond with swing, perfectly positioned for sunset photos. They have inside and outdoor space for both ceremony & reception, a fire pit area for smores, and a small waterfall. They allowed controlled sparkler exits (when there is no burn ban).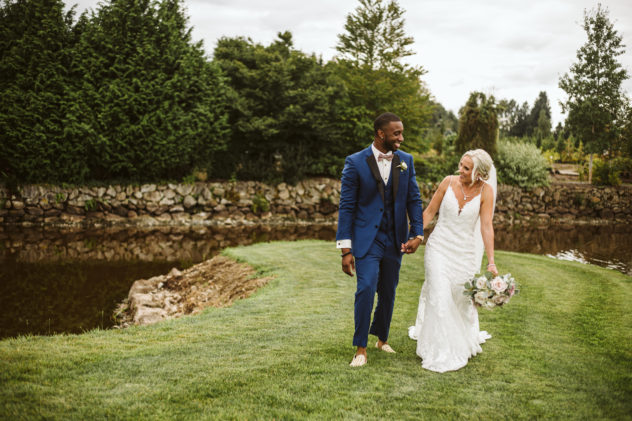 Meadowbrook Farm in North Bend
Meadowbrook Farm is technically a community building on site at a park. You would need to rent both the building and the park to use both spaces. There is a stunning view of Mt. Si, and there is a small getting ready space upstairs along with a small prep kitchen. The side doors open to allow for a reception to spill out into the lawn.
Woodland Meadow Farm in Snohomish
This venue is one of the most popular in Snohomish, and for many good reasons. There is a designated ceremony space on site with platform, separate getting ready areas, a large patio space with fire pit and permanent bar, a covered space for smaller reception setups or food, and beautifully manicured property that has a large swing that is often requested for photos.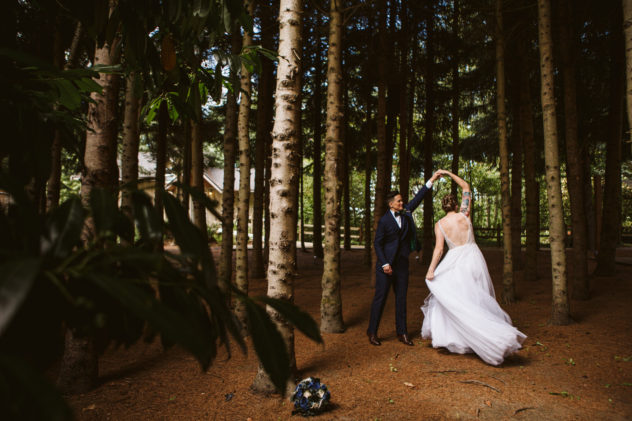 Woodinville Lavender in Woodinville
This venue is set up for intimate weddings, and is graced with beautiful lavender fields. There are a handful of ceremony space options (including a semi-covered option), a tented area for receptions, a patio area perfect for cocktail hour and getting ready space on site.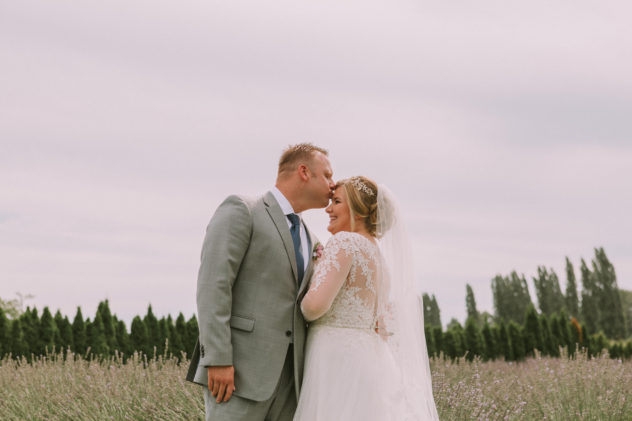 GALA Events in Monroe
With a botanical greenhouse, an elegant former shop, covered courtyard, and outdoor tent all for your use during your wedding, GALA is a great garden style wedding venue option. The have manicured lawns, a rose garden and koi pond, life-size chess set and tiny greenhouses at getting ready spaces, too.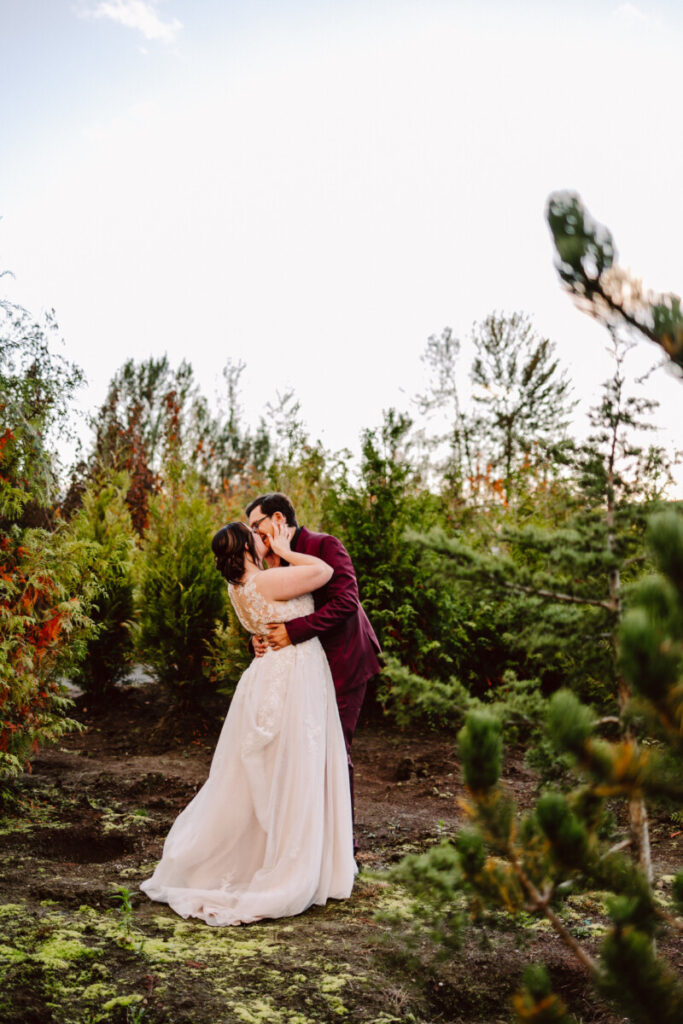 Ashe & Alder in Arlington
This venue feels more like it's located in Darrington/Oso than Arlington, and it's like stepping into Montana. This venue is entirely outdoors. The property is immense, and the ceremony site has a mountain backdrop. The reception site sits under the trees. There is a field with long grass, and just a short jaunt down the road, there is a second home you can rent and that property is perfect for wedding party and couple photos with the mountain, a white barn house and brown outbuilding as backdrops.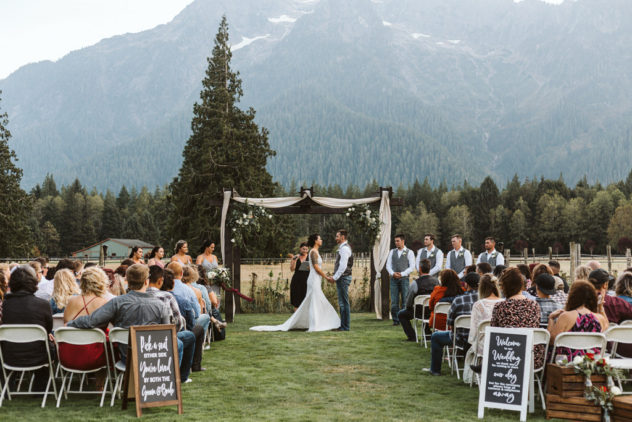 Hidden Meadows in Snohomish
This venue is another one of the most popular in Snohomish. It sits just outside of town and boasts gardens, and awesome view of the Snohomish valley behind the outdoor ceremony spot, a fountain, a tall grassy field, and a great indoor space dedicated to receptions. They have a preferred DJ that really makes the party amazing with their permanently installed lights.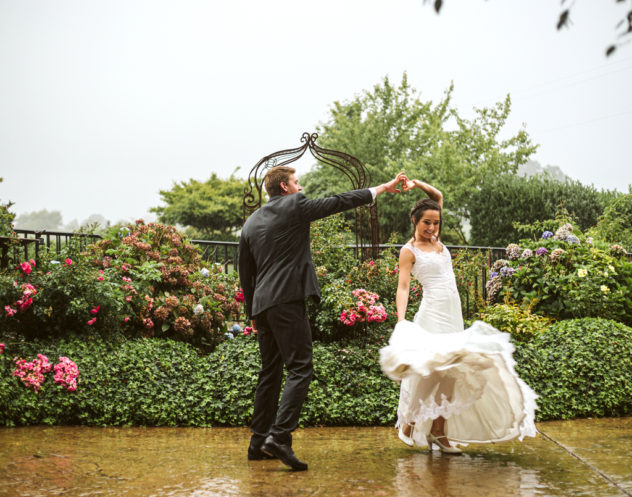 The Carey Gardens in Snohomish
This wedding venue is outdoor only. They have a luxury tent with draping and chandeliers, a koi pond, 2 dance floors, a gazebo, multiple wedding arches to choose from, lawns, gardens and rockery beds, and separate getting ready areas on site.
** We have not photographed here yet, this is a bucket list venue**
Jardin del Sol in Snohomish
Subtle gardens, gorgeous ceremony space, tented reception area, plenty of space for lawn games and dancing, this venue in Snohomish is located just off of Highway 9.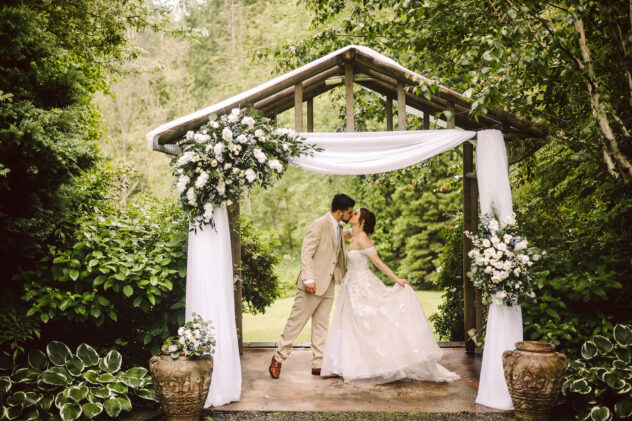 Cedar Springs in Port Orchard
This venue has a pond (2, actually) with rowboat, a beautiful peninsula ceremony space, large covered gazebo dance floor, trees, and a full tented reception space. It's tranquil, beautiful and perfectly pacific northwest.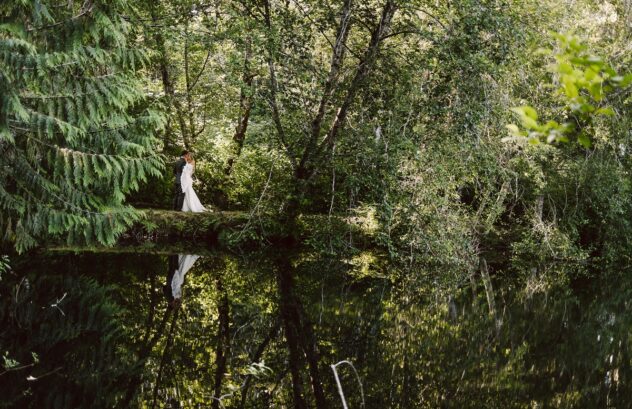 Christianson's Nursery in Mt Vernon
This is a working nursery and it is impeccably maintained. There are photo ops at every turn. Their wedding space consists of the schoolhouse, rose garden and front greenhouse. The schoolhouse is one of the oldest one-room schoolhouses still standing, and the views of Mt Baker and the panoramic farmland are hard to beat. There are separate getting ready spaces on site.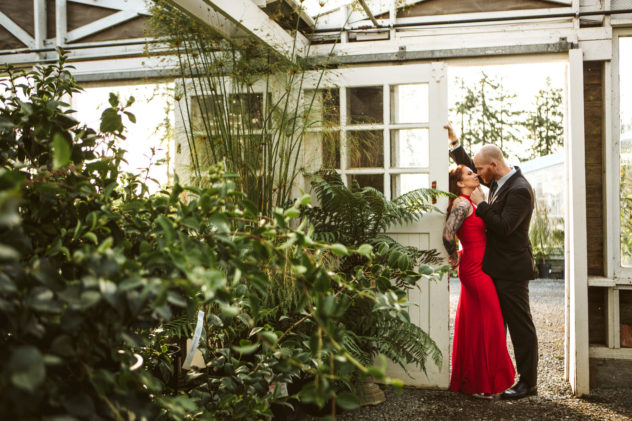 Twin Willow Gardens in Snohomish
This venue is home to the Cedar Hall – their ceremony site is surrounded by trees and has perfect light nearly any time of day. It also has a huge wood trellis. Their reception area is permanent – complete with tent, bar, and indoor space with restrooms and space for dancing or cake cutting or photo booth. They have two tiny homes on site for getting ready.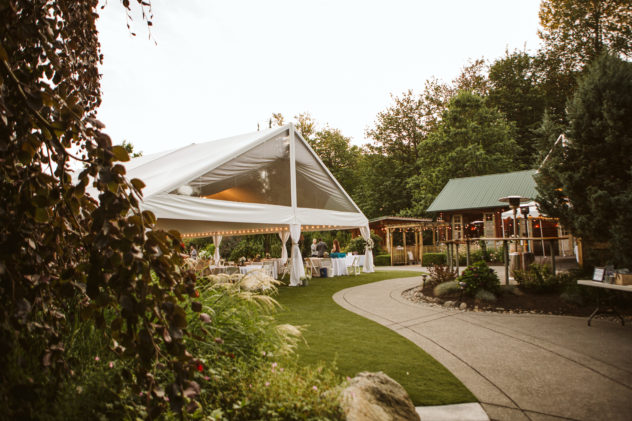 ---
8. CITY VIBE WEDDING VENUES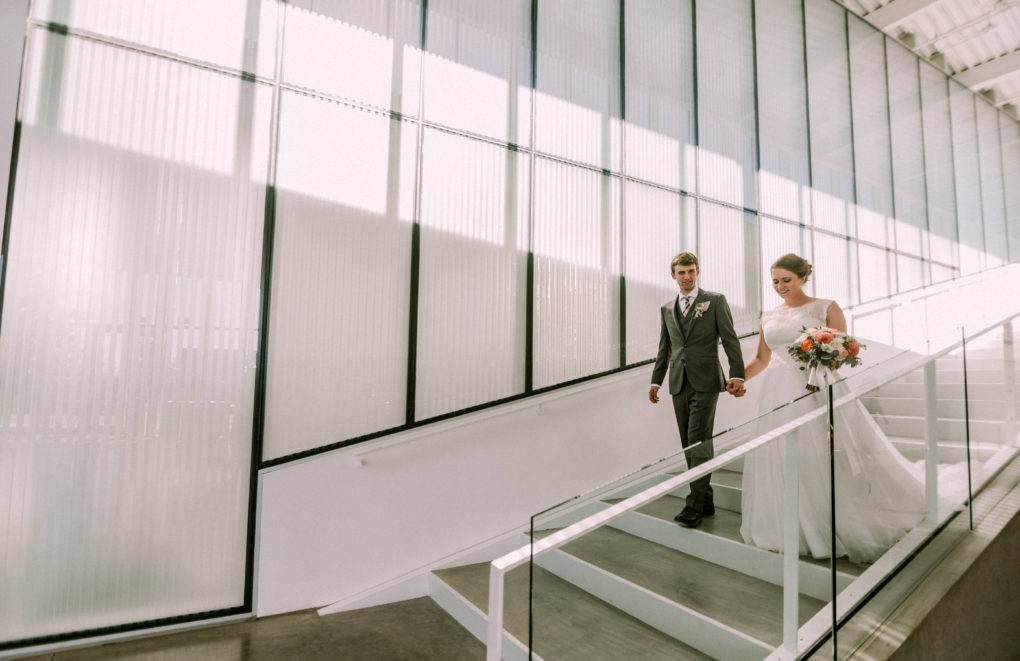 Olympic Sculpture Park in Seattle
Seattle Art Museum owns the Olympic Sculpture Park, and this is an indoor/outdoor venue. This is still part of a public park, so be aware of that when booking. There is space for ceremony inside or out, and reception space as well. The white walls and floor-to-ceiling windows of the building can make for an interesting backdrop for photos and your reception or ceremony. The park is a great spot for photos and unique views.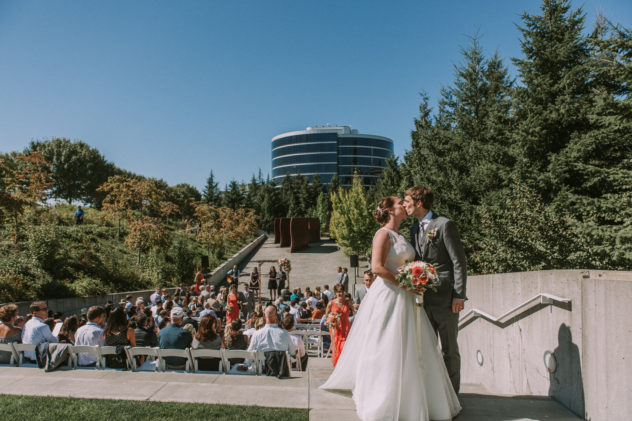 Bell Harbor Conference Center in Seattle
Many are familiar with the rooftop of Bell Harbor ICC, as it's an open public space. The rooftop ceremony is only an option in a couple of their packages. There are beautiful bright and windowed spaces for your reception, and they offer a lot of inclusions in their packages.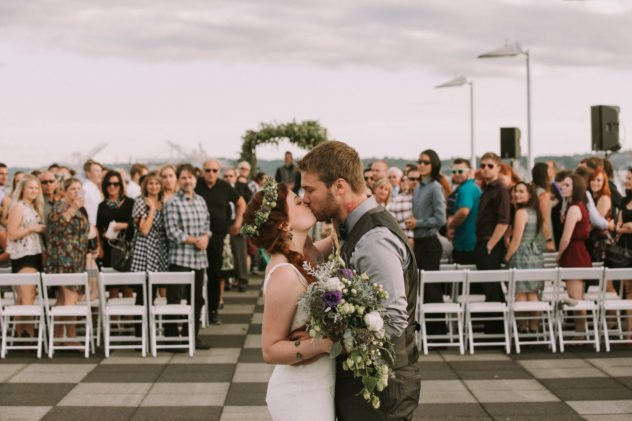 Metropolist in Seattle
The bright studio paired with wood floors, 25ft vaulted ceilings, open kitchen and movable bar is a fantastically urban backdrop for a city wedding. A blank canvas type of space, you can customize this wedding venue to your heart's content.
** We have not photographed here yet, this is a bucket list venue**
Fremont Foundry in Seattle
This space gives off that perfect industrial downtown vibe. Elegance mixed with industry, the cement structure has an understated presence… until you get to the rooftop. There, you have an indoor/outdoor space where guests can move freely between both, on to upper levels of deck, and dancing looks majestic in the dusk sky. The high ceilings of the main building make for an awesome backdrop for your reception dinner, and the city vibe continues in the courtyard with plenty of space for a food-truck and firepit.
** Kate has only photographed here as a second shooter for another photographer **
Imperial Lake Union in Seattle
LUC is a short-length wedding venue rental (evenings only) as this is a functional restaurant. This is another one of those venues that you'll want to book somewhere off-site to get ready, although they do have private space for you to hang out in before the festivities… down a tunnel-like secret passageway under the restaurant (where you'll get to sign your name after your ceremony). The space is filled with rich, deep tones, and restaurant style booth seating, a dedicated dance floor and stage (where your ceremony happens). It's the perfect venue for an elegant party … and don't forget to head outside for a photo under the iconic LUC neon sign.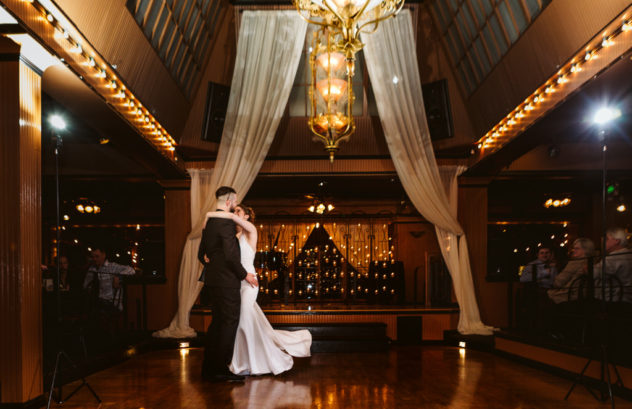 Hangar 30 Magnuson Park in Seattle
Magnuson Park is a wonderful garden in downtown Seattle. The park has a circular amphitheater that is perfect for an outdoor ceremony. Then, it's a short walk back over the Hangar 30. Hangar 30 is an enormous space – enough that you may want to consider drapery to make the space feel more intimate. There is plenty of space for furniture to create lounge setups and also have tables for even the larger weddings. Because of the industrial rawness of the space, up-lighting and decor can create a totally different look for your wedding.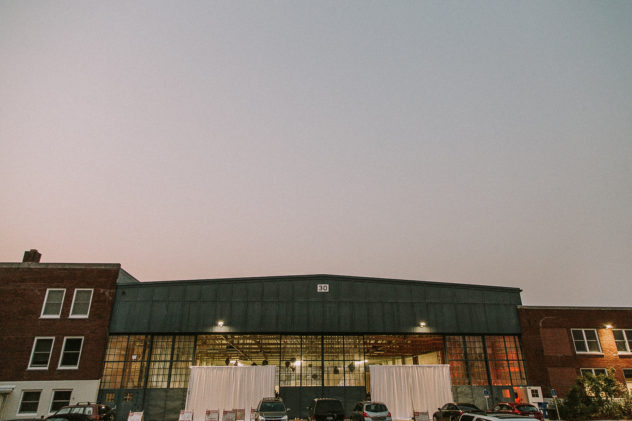 Arctic Club in Seattle
This opulent hotel is perfect for grand events who want to pair elegance with convenience. A ballroom with an awe-inspiring ceiling, dramatic architecture and chandeliers, this is a true hollywood experience.
** We have not photographed here yet, this is a bucket list venue**
Song River in Monroe
A spacious indoor venue hidden in a store front, this venue has bright an airy interior, a crystal bar, up-lighting, an elevated ceremony stage and separate getting ready rooms on site.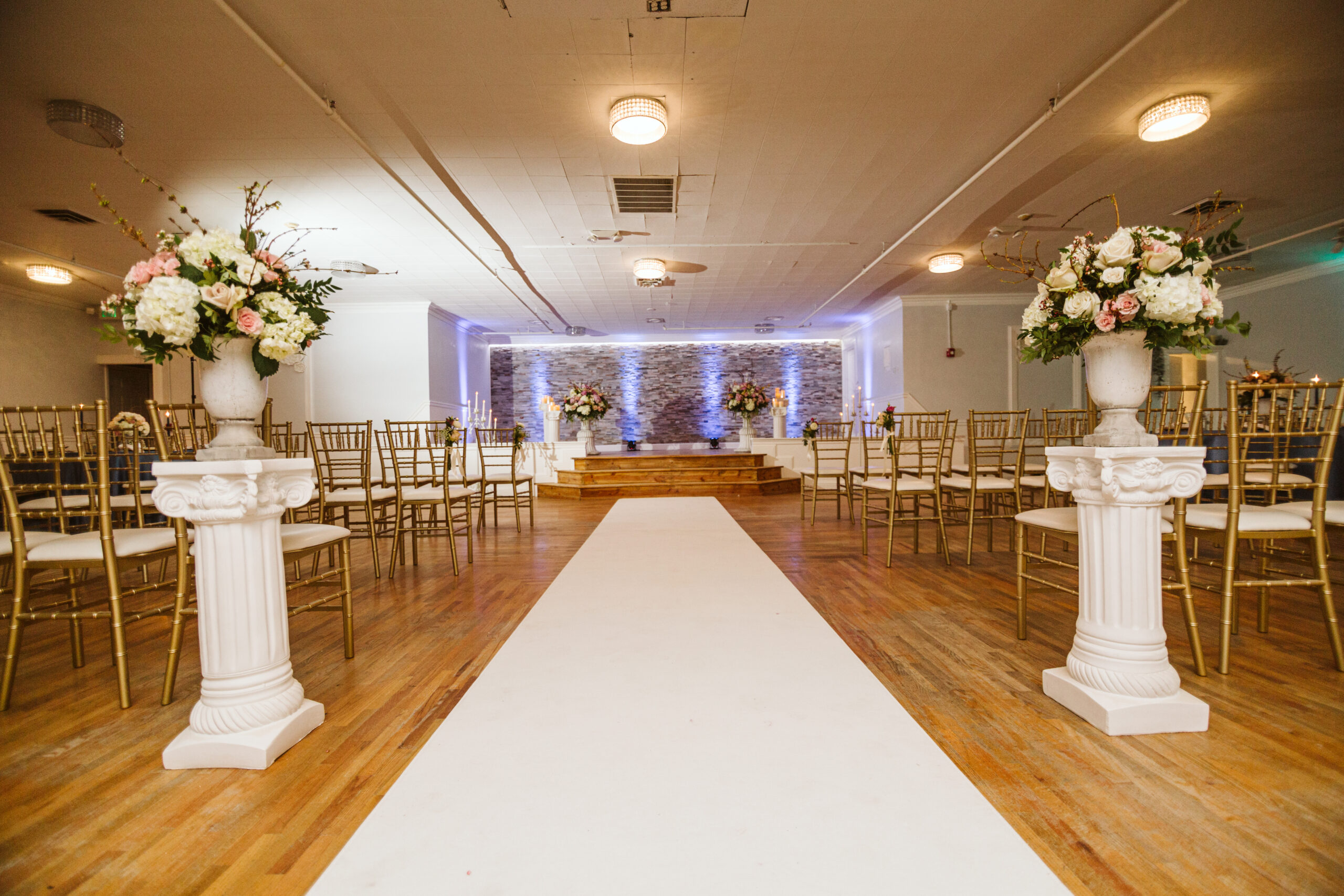 Union Station in Tacoma
This vintage train station holds old world charm of years past. Barrel vaulted ceilings with beautiful windows, white walls with turn of the century moulding details, you'll feel like you've entered the time of white gloves and travelling coats, and understated elegance.
** We have not photographed here yet, this is a bucket list venue**
415 Westlake
This indoor space is split between two rooms – one is street facing and holds a dedicated bar structure and lounge area, and the other is a high-ceiling up-scale banquet hall vibe. There are shelves on 2 walls housing candles and large permanent table structures perfect for buffet space. There is plenty of room in the alleyway next to the venue for dinner or dessert food trucks. This space is best used as a reception site, so it would be a great option if you're holding your ceremony elsewhere.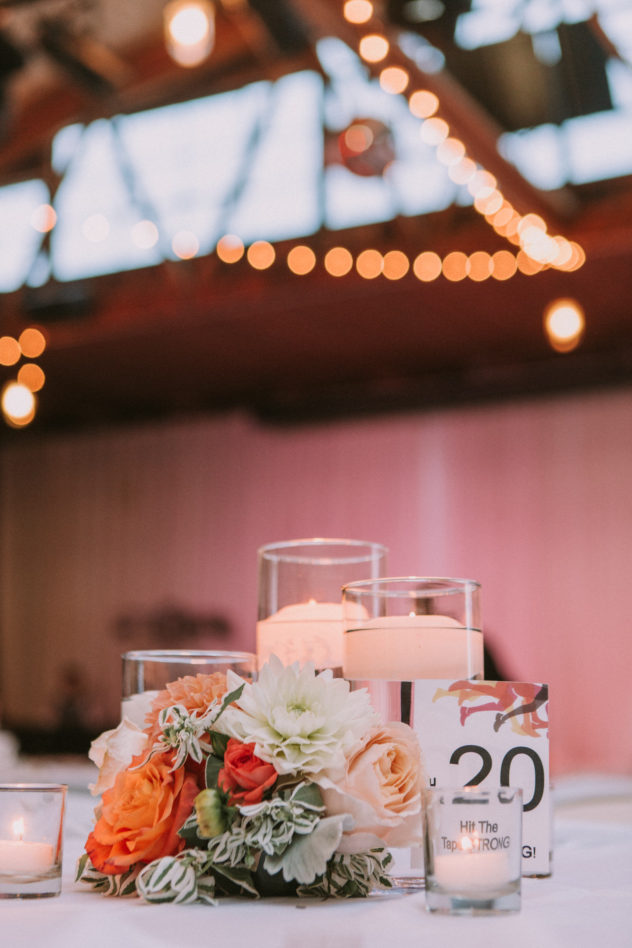 Great Hall at Green Lake in Seattle
This ballroom style venue is located near Green Lake (which is a great spot for photos, btw), and is basically a giant blank canvas. It has vaulted ceilings, lots of windows, and light colored walls. Aside from a fireplace in the side room, there is very little that has any discernable style in the venue – which is fantastic if you want to create any vision that you can dream up.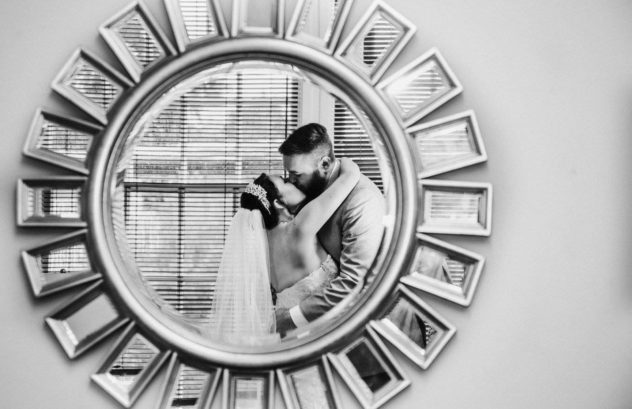 ---
9. WINERY OR DISTILLERY WEDDING VENUES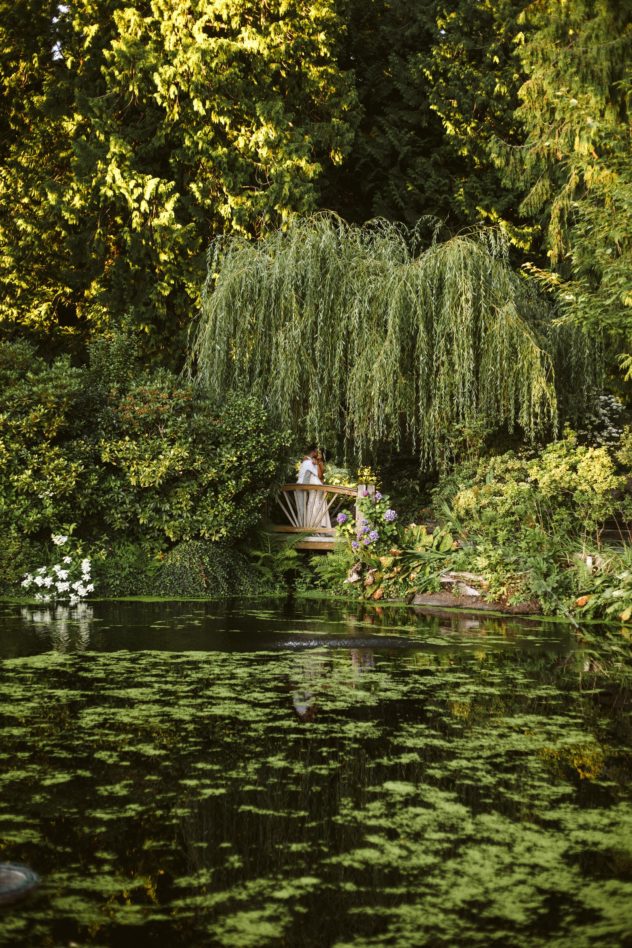 Sage Cliffe Resort in Quincy
The tree-lined road to the venue is one of my favorite parts about this property. They have several ceremony site options, including one by a quiet pond. The views of the hillside on the patio space is stunning, too. There are indoor and outdoor reception options. River views and vineyards make for amazing photo backdrops.
** Kate has only photographed here as a second shooter for another photographer **
Chateau Lill in Woodinville
The venue formerly known as Delille Cellars has now been dubbed Chateau Lill. The grounds are stunning, with a pond, weeping willows, trees, and several vineyard rows. The manor-style main building has multiple floors, with one getting ready space in the basement, the primary reception space on the main floor, and the second getting ready space upstairs. The reception area spills out onto a permanent patio area with bar. There are a few ceremony options, but most opt to hold their ceremony near the pond.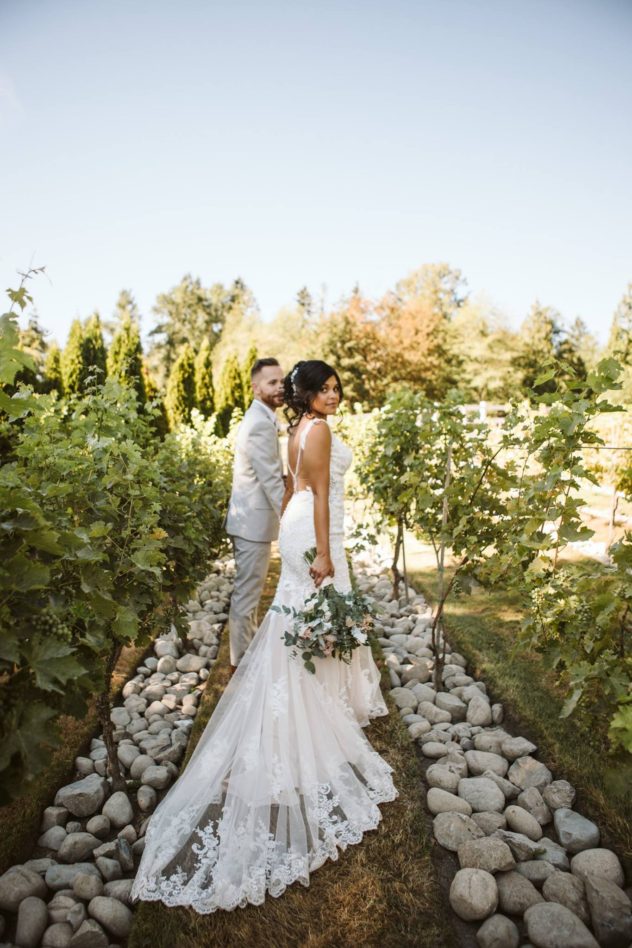 Columbia Winery in Woodinville
Columbia Winery sits in the corridor of the Woodinville Wine Country. There are multiple ceremony and reception options, both indoors and out… including a stunning barrel room. The outside courtyard is surrounded by hedges to help create a private space for your event, and leads into the smaller ballroom area (great for intimate weddings). The barrel room is below the tasting room and is perfect for a larger reception.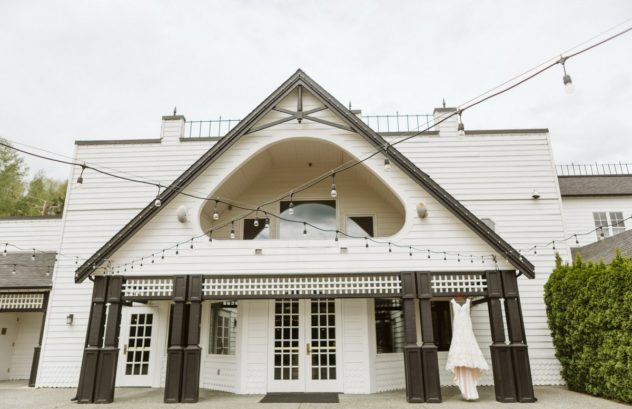 Fontaine Estates Winery in Naches
This winery has a great interior space with two connected reception rooms for reception. The planked floor and open beam ceilings are understated and make a great backdrop for most any decor. The outdoor space near the vineyards is used for ceremony. There is also an outdoor patio space, and access to the vineyards for portraits. There are separate getting ready rooms and a prep kitchen on site.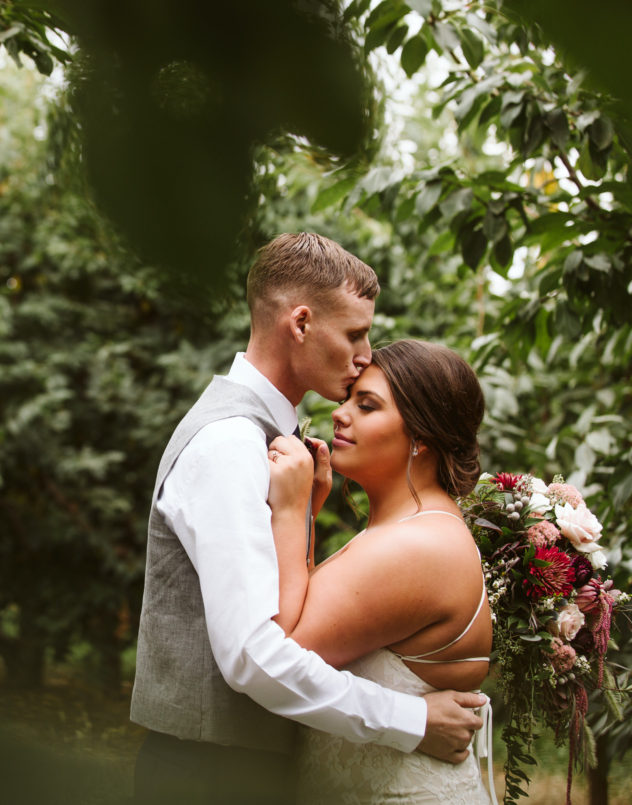 Woodinville Whiskey/Hollywood Tavern in Woodinville
Woodinville Whiskey/Hollywood Tavern is situated among some of the most popular wineries in Woodinville. This venue is perfect for smaller weddings. The rental time is shorter (as it's a functional tasting site and restaurant) so it's best to plan to get ready elsewhere. There is a ceremony space on the back patio, and then the reception is held in the loft of the distillery. There is a barrel room below that can be accessed for photos with the couple.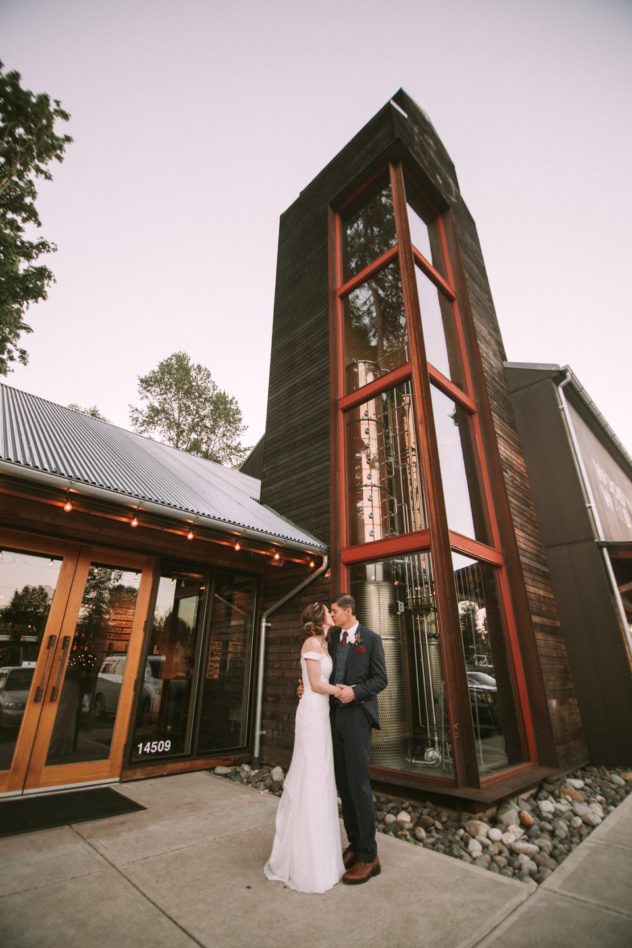 ---
10. GOLF COURSE WEDDING VENUES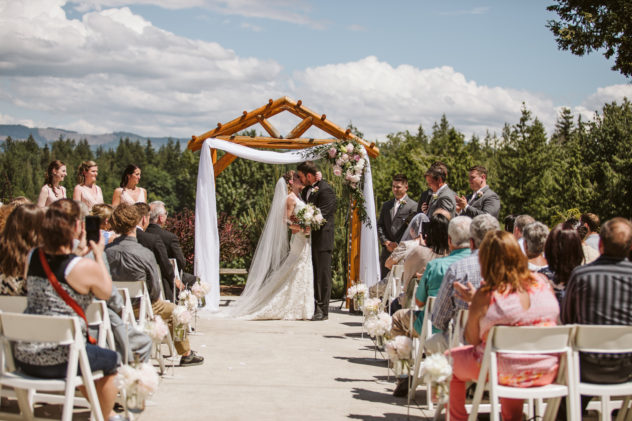 Golf Club at Echo Falls in Snohomish
There are a few ceremony and reception locations available at this golf course – one of which is a stunning ceremony site next to a waterfall. The indoor spaces are perfect for your ceremony or reception with full windows facing the gorgeous sunset over the 18th hole. There is also private access just for the wedding couple to the 18th hole peninsula at sunset for photos.
** Kate has only photographed here as a second shooter for another photographer **
Blue Boy West Golf Course in Monroe
In the backwoods of Monroe sits this golf course wedding venue. The white building and adjoining gazebo platform create the venue spaces. Inside the large building, there is a main floor reception space with high ceilings and an upstairs getting ready space. Attached to the white building is an enclosed porch style reception area, with steps leading down to the ceremony site. There is a fountain view from the porch windows.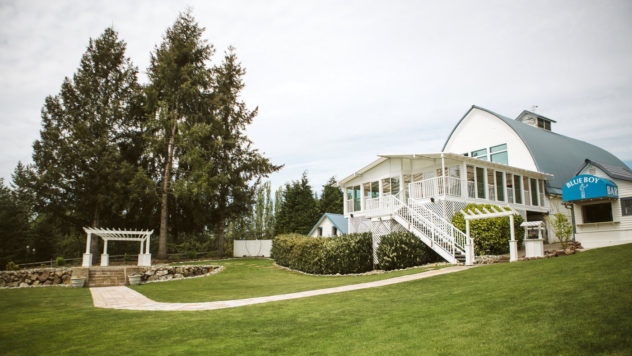 Shuksan Golf Club in Bellingham
This golf course has an incredible view of Mt Shuksan from it's ceremony site. The clubhouse is the reception area, with space for it to expand out onto the deck. This is a venue that you'd need to book an outside location to get ready in, as the waiting area on site is very small. Your access to the golf course grounds for photos is limited to just the couple and must be guided by a staff member, and you get only a handful of locations. Family and wedding party photos may be taken up at the clubhouse.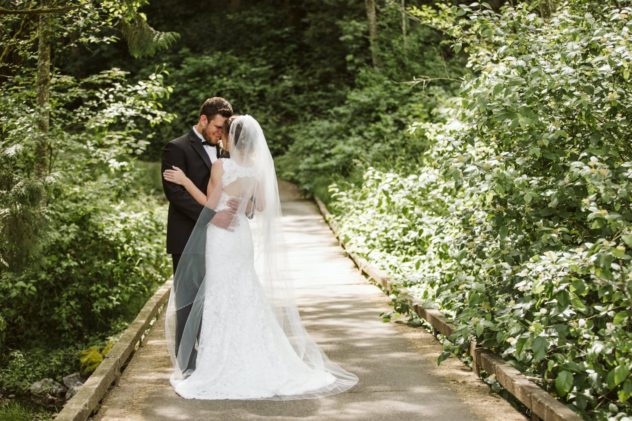 Club at Snoqualmie Ridge in Snoqualmie
The outdoor ceremony site for this stunning golf course venue sits in a meadow with views of the Cascade Mountains. There is a small rose garden on site that is popular for first looks and family photos. The have banquet and meeting rooms for your reception.
** Kate has only photographed here as a second shooter for another photographer **
---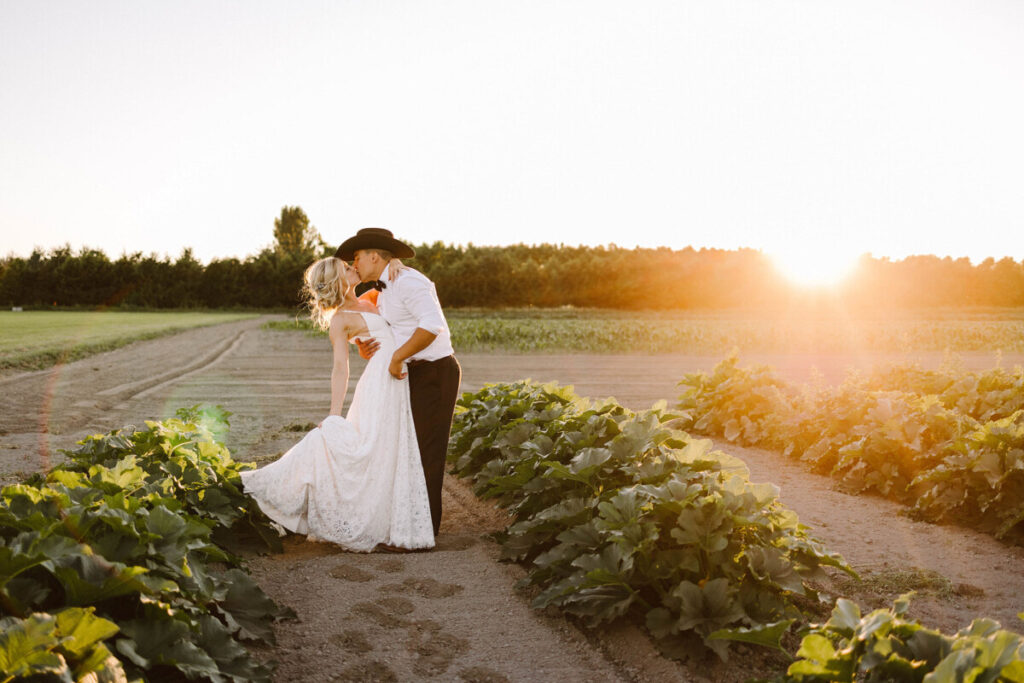 ENGAGED?
If you want something a little different for your wedding photography you're in the right place. GSquared Weddings a husband and wife Snohomish wedding photography team that specializes in weddings of all sizes all over Washington State, with a special heart for destination weddings.
We have an artistic, earthy style and fearless approach to wedding photography and are obsessed with love and creating visual love stories for the amazing and beautiful characters that hire us as their authors. We would love to get to know you and your love story.